Iceland hot spots
With Iceland hot spots  you will discover many unique  landscapes that will leave you speechless. Stunning waterfalls around every corner. Magical fjords filled with hot springs. Never ending black sand beaches and glaciers lagoons. Iceland is one country that is guaranteed to leave a lasting impression on anyone who visits.
With so much natural beauty it can be difficult to narrow down where you want to visit while in Iceland. To help get you started on your Iceland trip planning, or to spark your Iceland wanderlust, here are 18 of our favorite beautiful places around the country to add to your must visit list.
1. The Golden Circle
The Golden Circle is one of the most popular tourist routes in Iceland and one you won't want to miss. An easy day trip from Reykjavik, the 300 km loop has three main stops: Þingvellir National Park, Geysir and Gullfoss waterfall.
The first stop of the day will take you to Þingvellir National Park, the location of the first National Parliament from 930-1798 and a World Heritage Site. At the next stop take in the impressive erupting Geysir as it shoots 70 meters into the air. End the day at the famous Gullfoss waterfall. This magnificent waterfall flows down 32 meters into a canyon in two different levels creating a staircase like effect that is both unique and beautiful.
The Golden Circle is the perfect sample of Icelandic nature and great for those who are short on time and want to pack the most into their trip.  Book your Golden Circle tours today
Location | A 300 km loop starting from Reykjavik, give yourself at least 3-4 hours to drive and visit all the locations.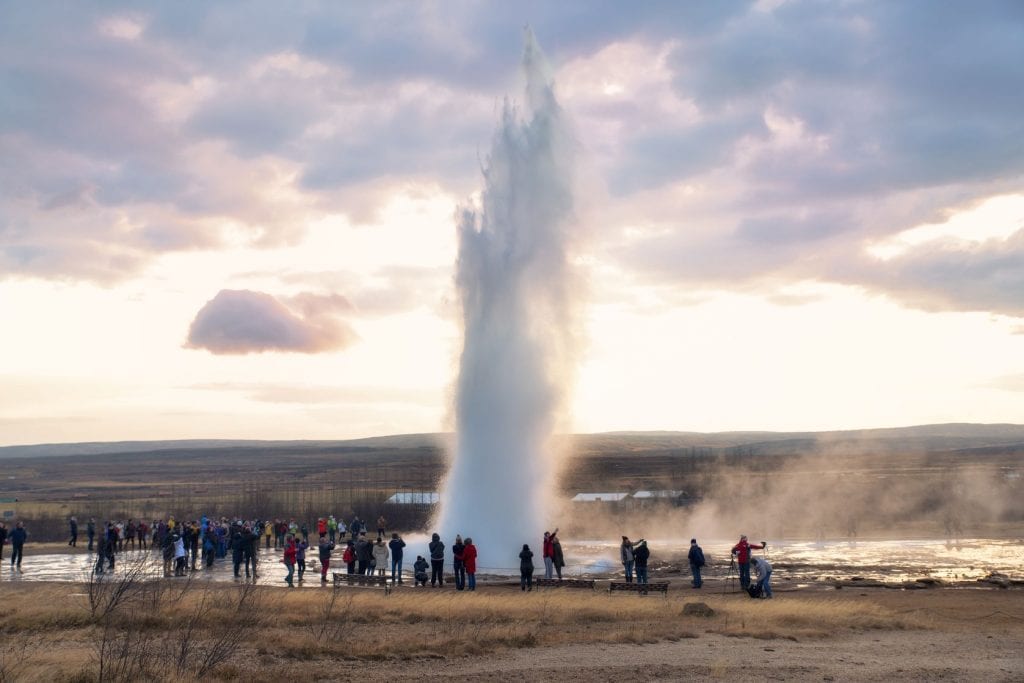 2. Silfra (Thingvellir)
Located in Þingvallavatn Lake in Þingvellir National Park, Silfra is a rift between the North American and European continents. Known for its crystal clear water, Silfra is the only place in the world where you can snorkel or scuba dive between two continents! In addition, Silfra has some of the clearest water in the world with visibility as far as 100 meters in certain areas making it a top destination for snorkeling and scuba diving. Even if you are not up for dipping into the frigid water a walk past Silfra will give you amazing visibility deep down into the beautiful blue water. Want to snorkle or dive in Silfra, book your tour here
Location | Silfra is located in Þingvallavatn Lake in Þingvellir National Park, 60 km from Reykjavík.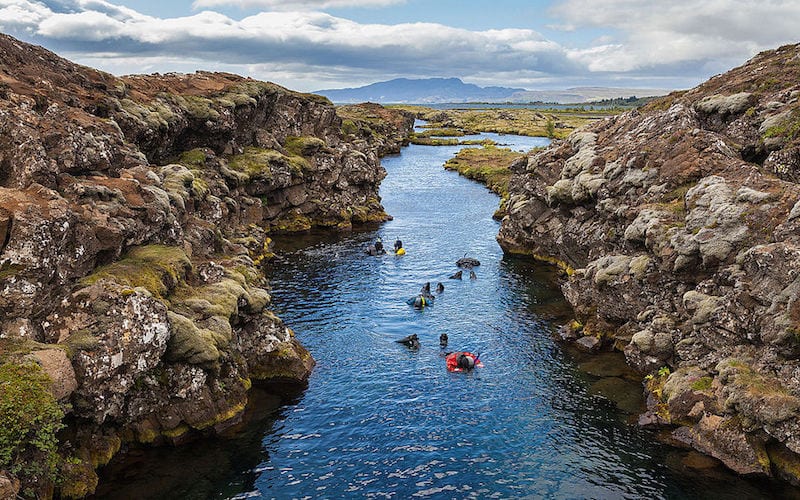 3. The Blue Lagoon
One simply can not visit Iceland hot spots without treating themselves to a relaxing spa day at the Blue Lagoon. Formed by "accident" in 1976 from the operation of the nearby geothermal power plant, the Blue Lagoon soon became a popular location once people discovered the benefits the minerals in the bright blue water had for your skin. Today it is one of Iceland's top tourist destinations and just one look at the amazing blue water will have you understanding why. Soaking in the relaxing warm water located in the middle of a lava field will be the most memorable spa day you will experience.
Be sure to reserve your time at the Blue Lagoon in advance here. Book your Blue Lagoon transfer here
Location | The Blue Lagoon is 23 km from Keflavík International Airport.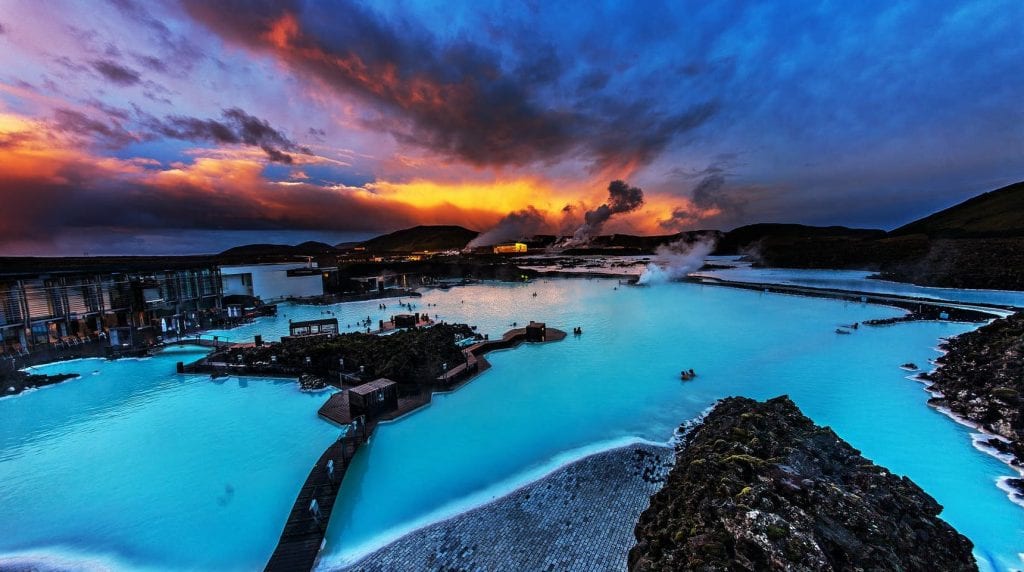 4. Seljalandsfoss and Skógafoss
These two waterfalls are a highlight of the beautiful south coast of Iceland that you can see right from the road. Seljalandsfoss is a beautiful tall waterfall with a 60 metre drop over the cliffside. You can even walk behind Seljalandsfoss for a closer look! Make sure to visit the lesser known waterfall next to Seljalandsfoss, Gljúfrabúi, that is partially hidden thanks to the large cliff in front just adding to its misty beauty.
A short drive up the road from Seljalandsfoss is one of the biggest waterfalls in Iceland, Skógafoss. This powerful waterfall will impress visitors and the best part, you can walk right up close to Skógafoss to fully appreciate its beauty. Make sure to keep a look out for a rainbow in front of Skógafoss, a magical sight that can often be seen at this waterfall. Here you can read more about amazing Waterfalls
Location | Seljalandsfoss is located between Selfoss and Skógafoss, 127 km from Reykjavík. Skógafoss is 30 km away from Seljalandsfoss heading towards the town of Vík.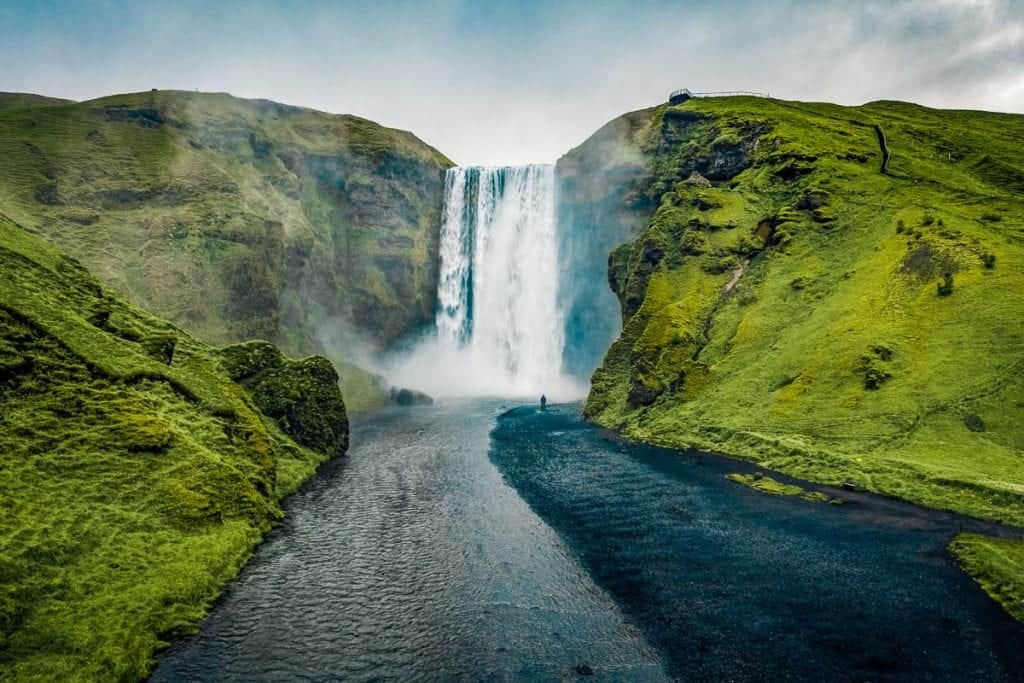 5. Vík
As you drive along the south of Iceland you will come across the charming town of Vík. Don't pass this little town without stopping! Near Vík you will find one of the most famous beaches in Iceland, Reynisfjara, a dazzling black sand beach. Along the beach you will find cliffs of basalt columns and out in the water large basalt sea stacks stand tall in the sea. A stop at Reynisfjara is a must, but please do use caution when exploring this beautiful beach, the waves can be very strong and unpredictable so keep a safe distance.
For an added adventure while in Vík take a visit to Dyrhólaey, a quaint lighthouse with a great view of the rock formations in the area.
Location | Vík is located 180 km southeast of Reykjavík along the ring road.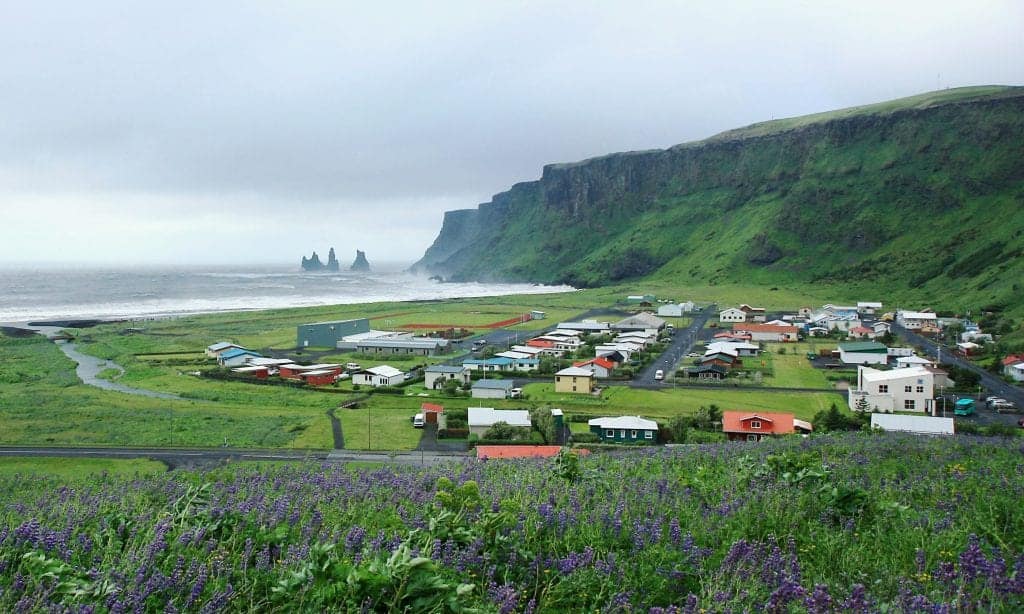 6. Jökulsárlón – Glacier Lagoon
One of the most popular wonders of Iceland is Jökulsárlón, also known as the Glacier Lagoon. At this unique location you will find a glacial lake filled with large icebergs floating around. A site in Iceland that has been featured in several movies, visitors can enjoy a boat tour around the lagoon where they may even be able to get right up close to the icebergs. Book this popular attraction here
Location | Jökulsárlón is located 370 km east of Reykjavík near Vatnajökull National Park.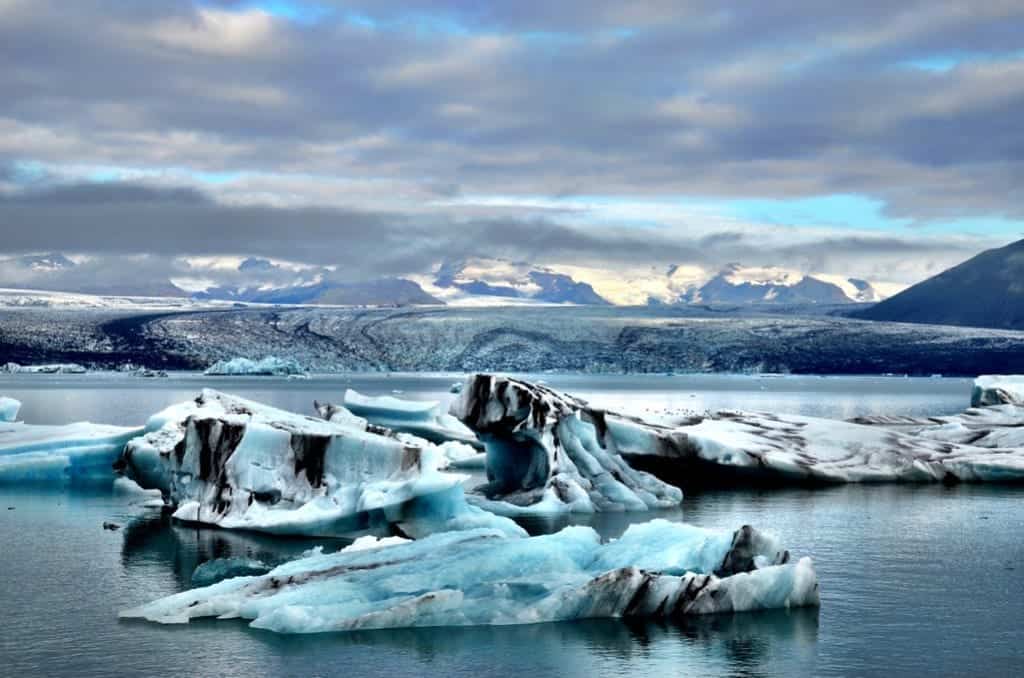 7. Dettifoss
Iceland is a country full of waterfalls and Dettifoss, it steals the top spot. Located in the northeast of Iceland, Dettifoss is the most powerful waterfall in Europe and the largest waterfall in Iceland with a size of 100 metres wide and a drop of 44 metres. The water that powers Dettifoss is from the nearby Vatnajökull glacier which gives the water a greyish coloring due to the sediment-rich runoff from the glacier.
This impressive waterfall is a must see for all the waterfall lovers in Iceland, just the the size will impress you! Here you can find tours that include Waterfalls.
Location | Dettifoss is located in the north of Iceland, 105 km from the town of Húsavík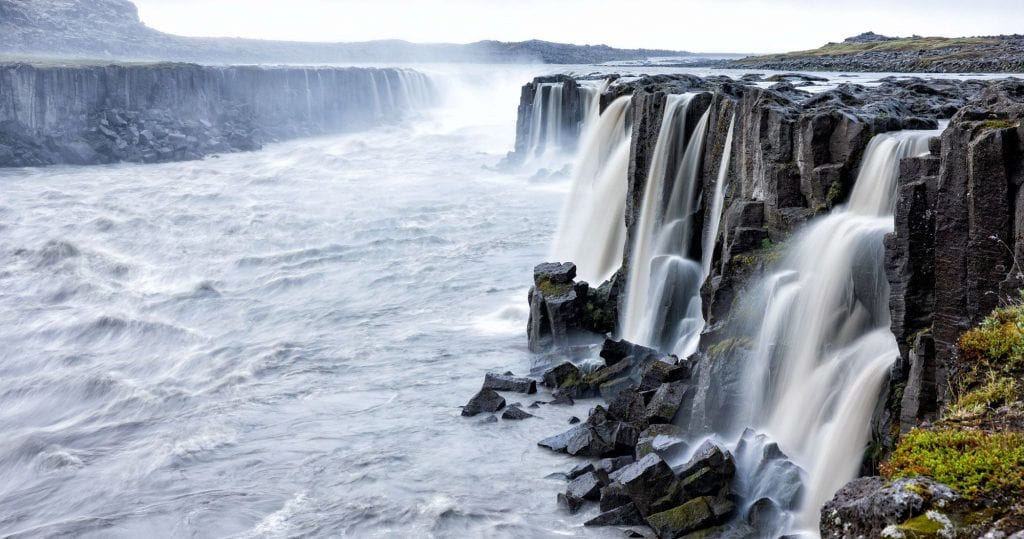 8. Dimmuborgir
Located in the north of Iceland you will find Dimmuborgir, a large area covered in lava formations that are as unique as they are beautiful. The volcanic caves and lava formations found at Dimmuborgir were formed over 2,000 years ago from a lava lake. Today visitors can enjoy walking along the many pathways in the area while taking in the unique formations.
For anyone keen on learning more about the Icelandic folklore about elves this is a must stop for you, there is even said to be an "elf church" found in the lava formations!
Location | Dimmuborgir is located 15 km east of Mývatn.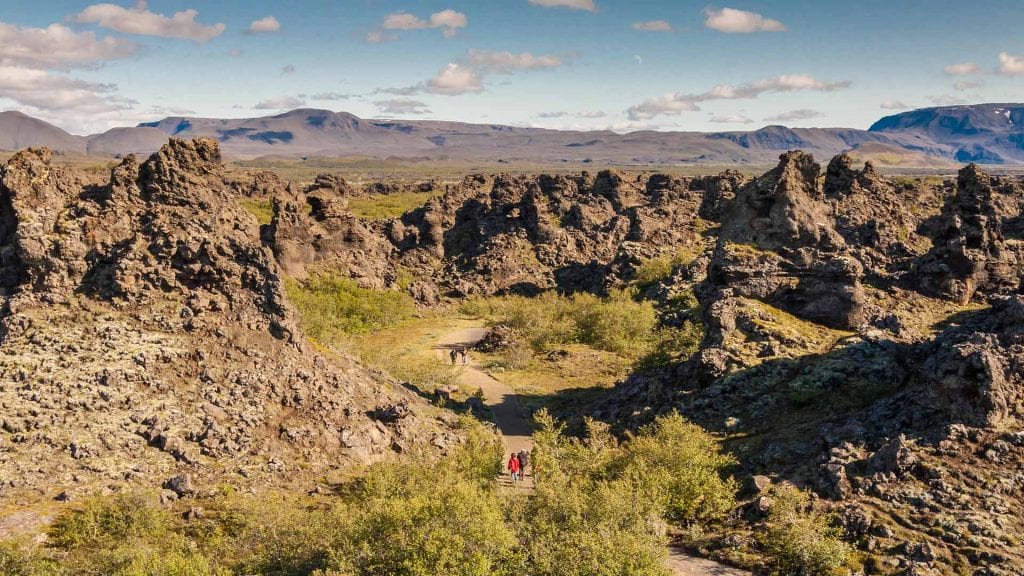 9. Mývatn
A beautiful area full of lush nature, Mývatn is a lake in the north of Iceland surrounded by wetlands. Volcanic eruptions have played an important role in forming the unique environment around Mývatn that is now a popular camping and recreational location, especially during the summer months.
While in the area be sure to stop by Mývatn nature baths, a smaller and less crowded geothermal spa with bright blue water, similar to the Blue Lagoon. Book your tours around Mývatn here
Location | Mývatn is located in the north of Iceland, 105 km from the town of Akureyri.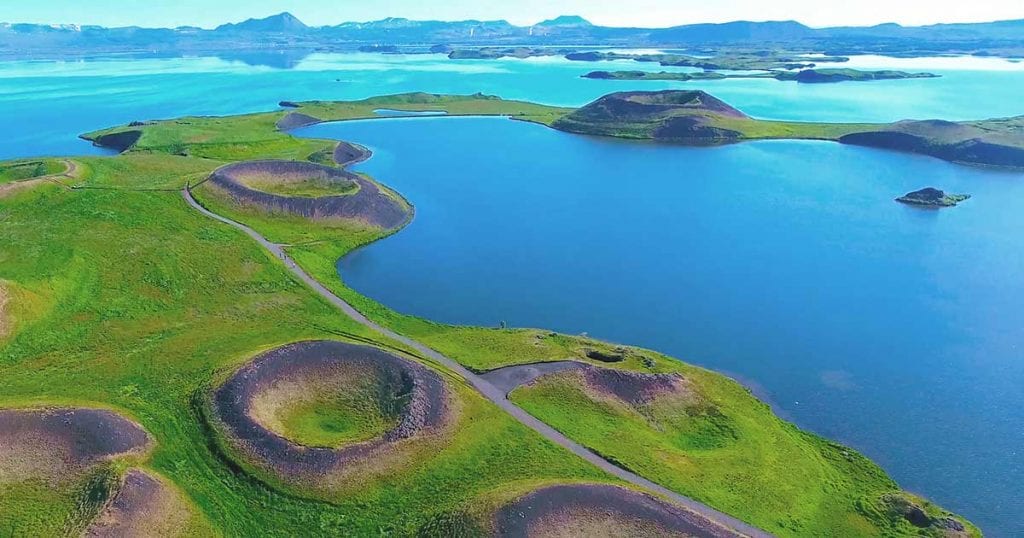 10. Akureyri
Iceland's second largest city nicknamed "the capital of North Iceland" is the town of Akureyri. Due to its location Akureyri has played an important port and fishing center for Iceland. Enjoy the town's growing culture with a visit to downtown where you will find museums, shopping and fine dining. This is also a popular destination for those looking to get away for a weekend of skiing in the mountains surrounding Akureyri.
Close to many of the popular attractions in the north of Iceland, Akureyri is a great location to base yourself in while visiting the north of Iceland.
Location | Akureyri is located in the north of Iceland, 380 km from Reykjavík.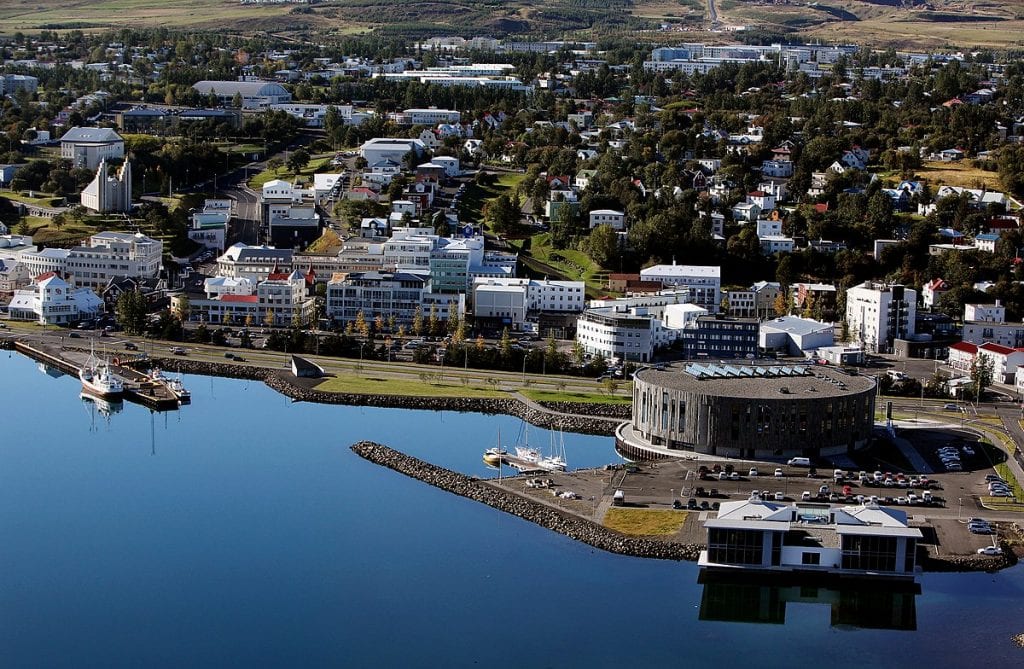 11. Goðafoss
One of the most impressive waterfalls in Iceland is the beauty Goðafoss, also known as "waterfall of the gods." Located in the north-central part of Iceland this waterfall rushes down in a semi-bowl shape making for a unique and dramatic scenery. For those looking to capture a great picture of this waterfall make a visit at sunrise or sunset for a stunning lighting over the waterfall.
Location | Goðafoss is located at the beginning of the Sprengisandur highland road, 52 km from Akureyri.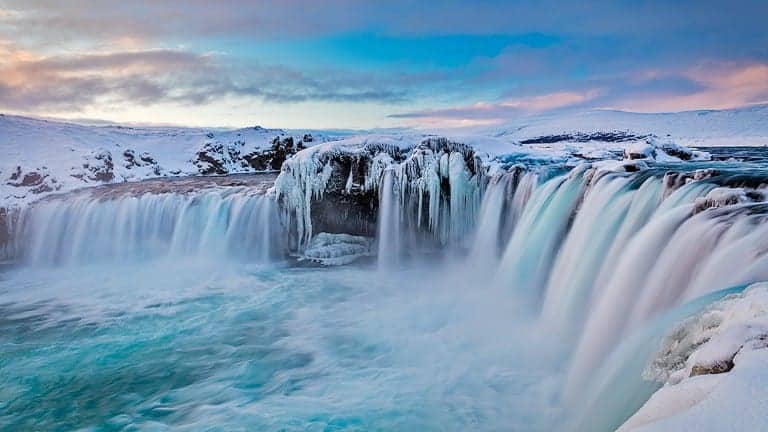 12. Westfjords
Home to one of the most remote and beautiful places in Iceland is the magical Westfjords. Due to its location this is an area of Iceland that not many get to visit, so if you are looking to stay away from crowds the Westfjords are perfect for you. An added bonus to its remote location, much of the nature in the Westfjords is untouched meaning you will get to appreciate Icelandic nature it its rawest form.
In this region you will find fjord after fjord each packed with stunning views. There will be endless hot springs to discover while in the Westfjords, and of course a waterfall or two including the must visit Dynjandi waterfall. Don't miss your chance to visit this magical part of Iceland.
Location | The Westfjords is a large peninsula in the northwest of Iceland.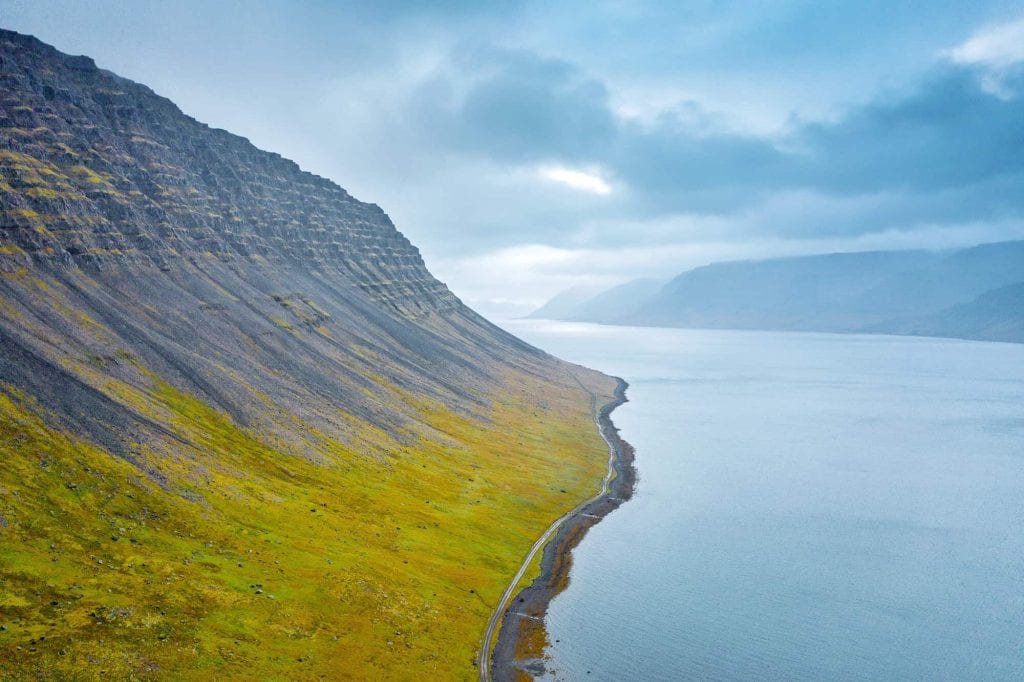 13. Snæfellsnes peninsula
Nicknamed "Iceland in Miniature" the Snæfellsnes peninsula has a little bit of everything to enjoy. In this peninsula you will find charming small fishing towns, rolling green landscapes, waterfalls trickling down over the cliffside and plenty of adorable Icelandic horses running around in the fields. A highlight of this region is the Snæfellsnes National Park where you will find miles and miles of lava fields, glaciers and beautiful beaches to explore.
A visit to the Snæfellsnes peninsula is great for those looking to do a mini roadtrip adventure and want to see a diverse mix of Icelandic nature along the way. Book your tours around Snæfellsnes here
Location | Snæfellsnes peninsula is located in the west of Iceland, 150 km from Reykjavík.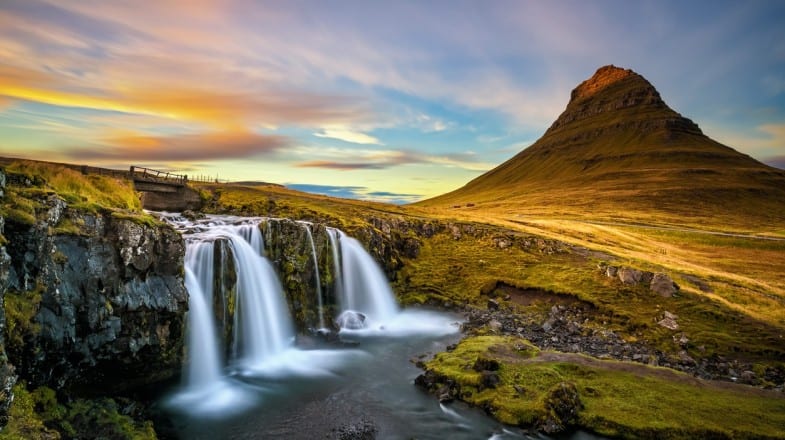 14. Mt. Kirkjufell
Located on the north coast of the Snæfellsnes peninsula near the town of Grundarfjörður sits the beautiful Mt. Kirkjufell, known as "Church Mountain" in English. Mt Kirkjufell is one of the most photographed locations in Iceland making it an iconic location to visit. For the best view head to the other side of the road where you will find three little waterfalls to add to the beauty of the scenery. Make sure to have your camera's ready for this stop!
Location | Mt. Kirkjufell is located on the Snæfellsnes peninsula 6 km from the town of Grundarfjörður.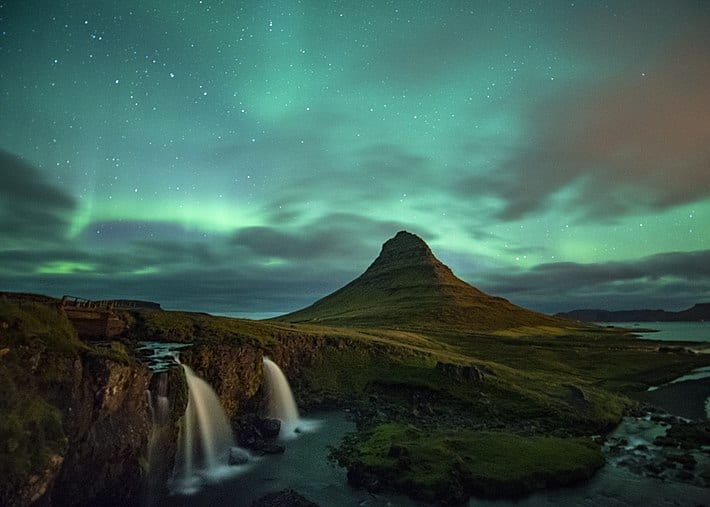 15. Reykjadalur
Reykjadalur is a popular hiking trail just outside of the town of Hveragerði, a short 40 minute drive from Reykjavik. Reykjadalur directly translates to "steam valley" and it holds true to its name, you with steam floating in the air in all directions on this hike. This hiking trail will have you walking up into the mountains, past a waterfall and beautiful blue water pools, through geothermal steam and back to hot springs.
Be sure to pack your bathing suit for your visit to Reykjadalur so you can enjoy a mid-hike break relaxing in the hot springs.
Location | Reykjadalur is located just outside of Hveragerði, 40 km from Reykjavík.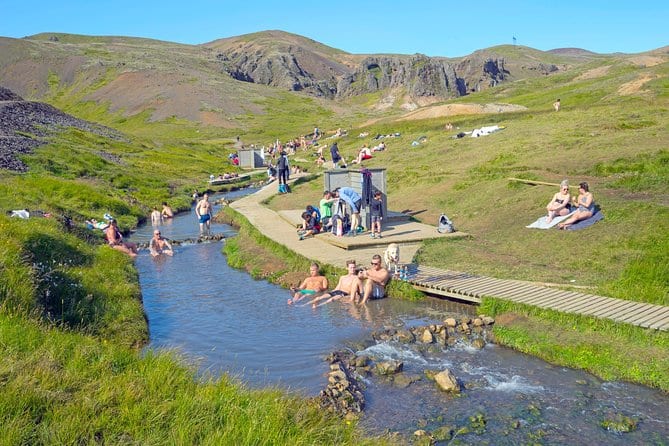 16. Landmannalaugar
Located in the rugged highlands of Iceland, Landmannalaugar is an area packed with colorful rhyolite mountains and dozens of hiking trails. Visitors to this area can enjoy a day of hiking around the colorful mountains before soaking in the hot springs and setting up camp for the night. Landmannalaugar is a must visit for any nature enthusiast.
Take note that the highlands of Iceland are not an easy area to reach. The roads back to the highlands are only open during the summer months once the snow melts away and you will need a 4WD vehicle to reach them. There are several tour operators with special buses that can take you back to Landmannalaugar.
Location | Landmannalaugar is located in the Fjallabak Nature Reserve in the highlands of the south of Iceland.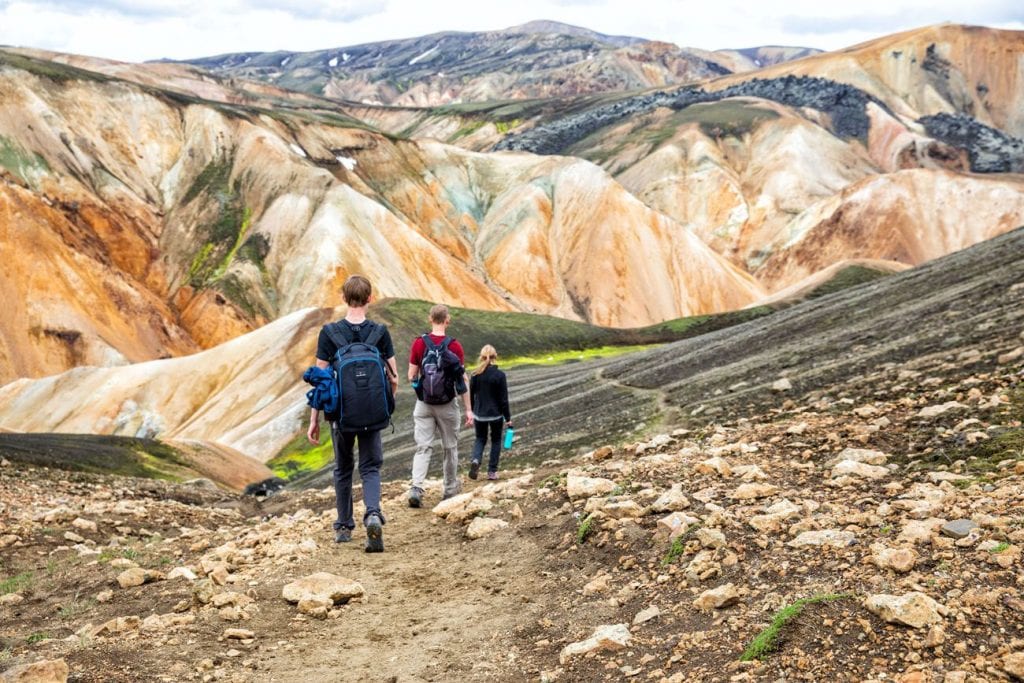 17. Westman Islands
Probably the best kept secret in Iceland, the Westman Islands are a chain of 15 islands located off the south coast of Iceland. Out of those 15 islands only one is inhabited, the island Heimaey. In 1973 one fifth of the island was destroyed by a volcanic eruption thus giving the Westman Islands the name "Pompeii of the North". You will also find one of the largest puffin colonies in the world in the Westman Islands. You can even visit the local aquarium and cuddle a puffin while you are there.
The Westman Islands can be reached by either ferry or plane. It is worth the trip to take in the stunning landscapes. Book your tours and trips on Westman Islands here
Read more about Westman Islands here
Location | Westman Islands is located off the south coast of Iceland. A ferry to the island can be taken from the harbor Landeyjahöfn located 130 km from Reykjavík.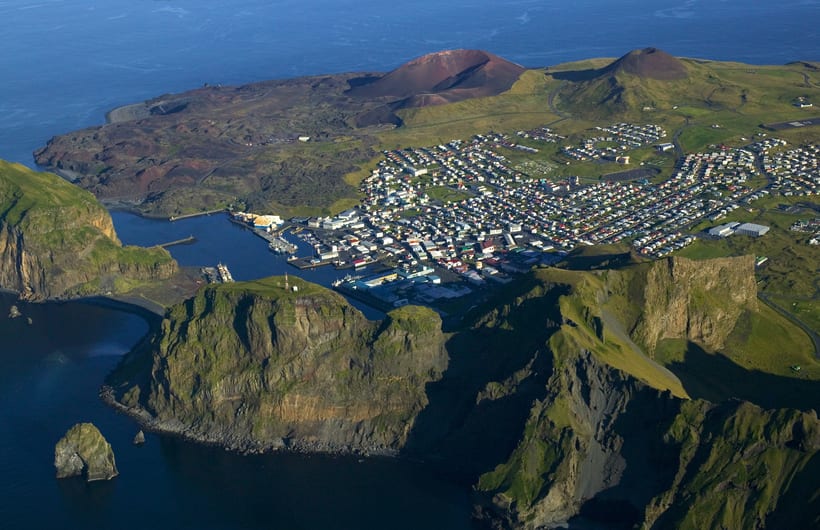 18. Reykjavík
Last, but definitely not least, the colorful capital of Iceland, Reykjavík. The world's northernmost capital, Reykjavík may be small for a capital city but there is always something fun to check out. Walk the streets filled with charming colorful houses, take in the happening downtown area full of great shopping and dining, and don't forget to take a stroll by the sea that is always nearby while in Reykjavík. There is something for everyone to enjoy in Iceland's capital!
Location | Reykjavík is located in the southwest of Iceland on the southern shore of Faxa Bay.