Amazing Waterfalls Southern Iceland

Iceland may be a small island but there is no shortage of beautiful waterfalls here, and the South of Iceland is home to some of the most beautiful waterfalls you will find in the south iceland waterfalls. From the powerful Gullfoss to the unique blue waterfall Brúarfoss you can be sure that your adventures in the South of Iceland will include some gorgeous waterfalls.
As you make the drive down the South of Iceland from Reykjavik on Route 1 you won't have to wait long until your next waterfall stop.
To help you plan out all the waterfalls to visit along the way here is a list of our must-see waterfalls in the order that you will find them on your South of Iceland road trip.
Öxarárfoss
Located in Þingvellir National Park is the small but beautiful Öxarárfoss waterfall.  The 20-meter high waterfall crashes down into a small pool that is filled with rocks making a unique characteristic to this waterfall. Öxarárfoss looks just as beautiful with a dash of snow as it does with the sun shining. There is a nice pathway and viewing deck to take in Öxarárfoss making this waterfall accessible year-round.
Location | Öxarárfoss is located in Þingvellir National Park, 40 km from Reykjavik.
If you want to visit Þingvellir and check out Öxaráfoss you can check out our most popular Golden Circle Tours here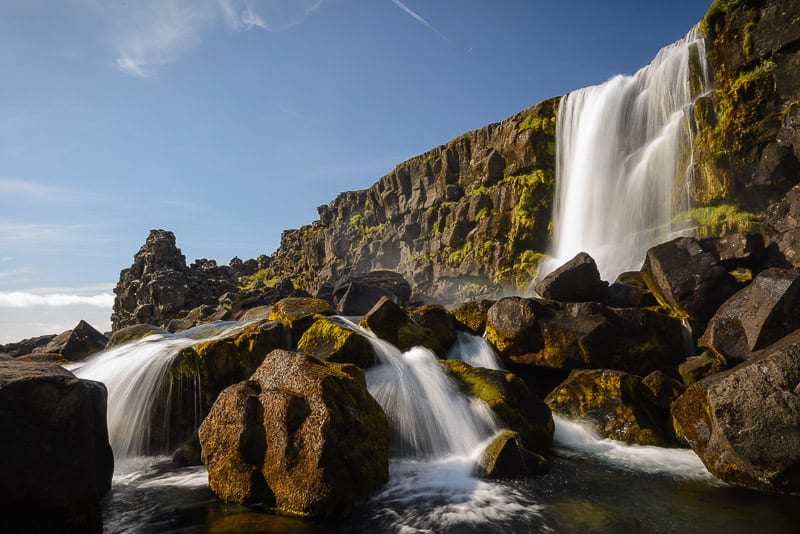 Gullfoss
One of the most popular attractions in Iceland is the powerful Gullfoss waterfall.  Gullfoss "The Golden Waterfall" is one of three stops along the Golden Circle route many visits while in Iceland. This beautiful waterfall flows down 32 meters into a canyon in two different levels creating a staircase like effect that is both unique and beautiful. Whether it is a sunny summer day with the green landscape surrounding Gullfoss or the middle of winter with the waterfall covered in ice, this is one gorgeous waterfall to visit in Iceland.
Location | Gullfoss is located in the canyon of the Hvítá river in southwest Iceland, 109 km from Reykjavik. From Reykjavik drive east on the Ring Road for 54 km before turning left onto route 35. Continue along route 35 for 70 km passing Geysir along the way.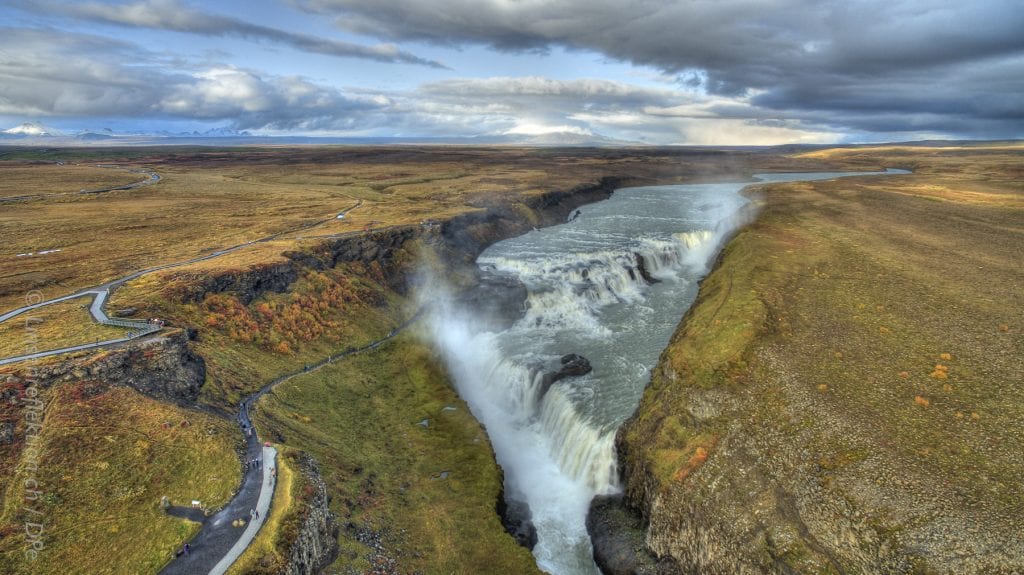 Faxi
Faxi waterfall, also known as Vatnsleysufoss Waterfall, is located along the popular Golden Circle route near Geysir. Even though Faxi is easily accessible along Golden Circle route this waterfall tends to be skipped by travelers so you won't have to deal with any crowds to get a good view. There is a nice picnic area at Faxi making it a great lunch stop while traveling along the Golden Circle route.
Location | Faxi waterfall is located along the Golden Circle route around 12 km from Geysir.
Tours that include a visit to Faxi Waterfall:
Golden Circle Classic MiniBus Tour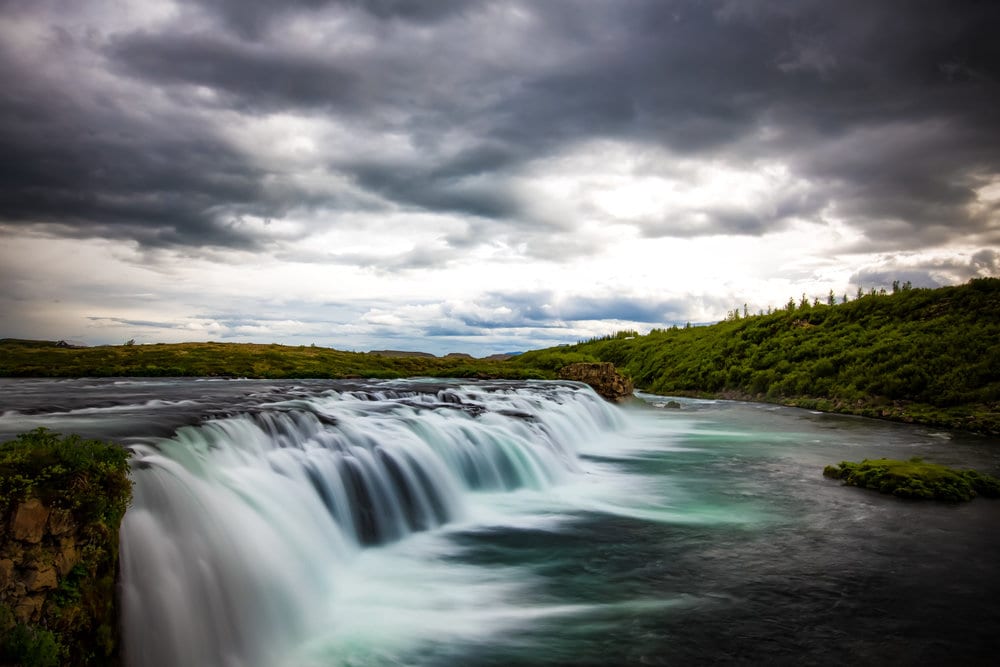 Brúarfoss
One of the more unique waterfalls in Iceland is the beautiful Brúarfoss. Located in the Bruara river in the Southwest of Iceland, Brúarfoss is known for it gorgeous blue water and the dozens of small waterfalls running down into a blue pool. Brúarfoss can be a bit tricky to find as there are no signs along the way, but the adventure back to Brúarfoss is part of the experience. One thing is for sure, you don't want to miss visiting Brúarfoss and seeing the amazing blue waterfall while in Iceland.
Location | Brúarfoss is located along the road 355, 90 km from Reykjavik. About 2-3 kilometres after you crossed road 355 you will reach a large summer house area on the left side. Take the third road into this area (all other roads are blocked with gates) and drive straight ahead. Follow the gravel road until you reach a bigger path with two tracks. Turn left and drive for a few minutes until you reach the end of the road. There you will see a small area where you can park your car and follow the little foot path right over the small bridge. Once you cross the bridge stay to the left and stay on the trail. Walk for 5-10 minutes on this path and you will arrive to Brúarfoss.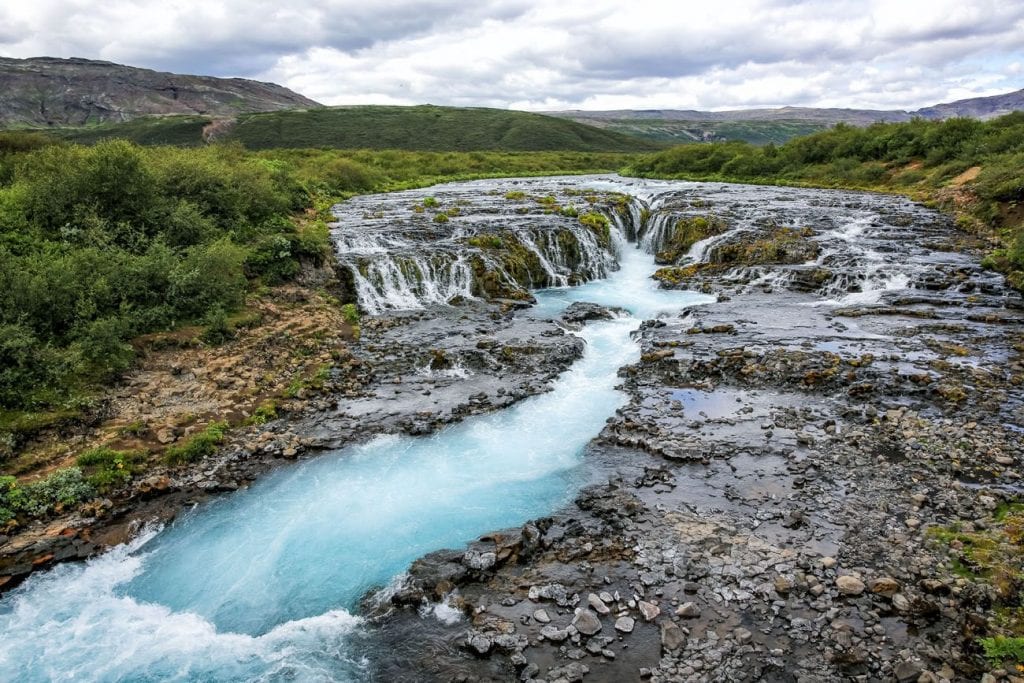 Gjáin
Located in the Þjórsárdalur Valley past the historical farm Stöng, Gjáin is a small valley with several waterfalls trickling down the lava formations. Gjáin is one of the most beautiful places I have visited in Iceland, with its lush green nature and waterfalls in all directions it has a fairytale like setting which makes you certain that Icelandic elves and trolls live there. Spend some time walking around this peaceful area and see how many waterfalls you count.
Location | Gjáin is located in the Þjórsárdalur valley in the south of Iceland, 136 km from Reykjavik. There are two ways to get back to Gjáin. One option is to hike back to the waterfall from the historical farm Stöng. It is an easy 30 minute hike back along the river and takes you to the Northern part of Gjáin giving you a view of the Gjárfoss waterfall. A second option is to drive past Stöng for a few minutes until you reach the small parking lot next to Gjáin. There you can walk down a stairway that will take you right into the beautiful area so you can explore further.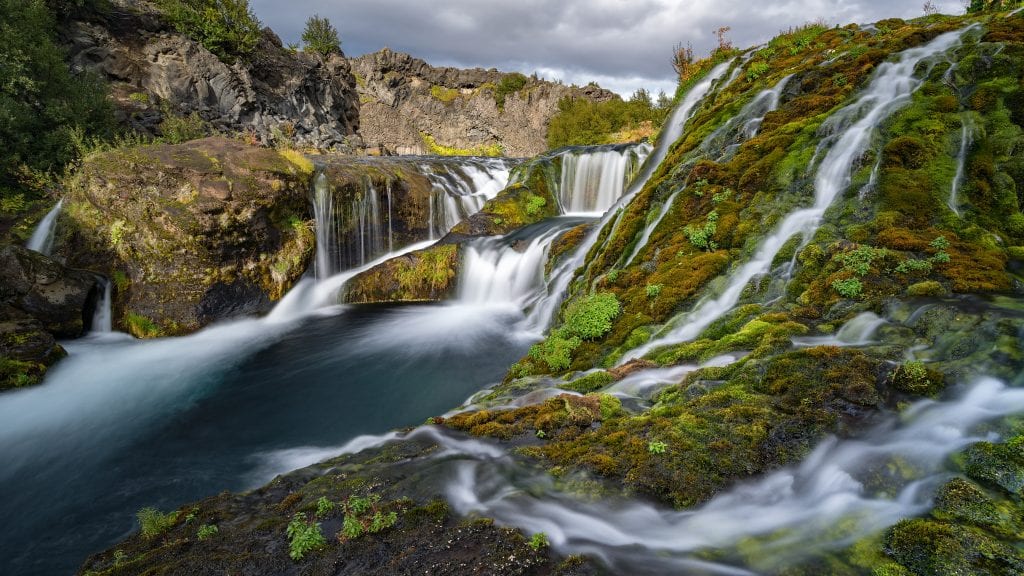 Háifoss
Known as the "Tall Falls", Háifoss is 122 meters high waterfall located near the edge of the highlands on the Fossá river. A trip back to Háifoss will bring a two for one deal with a second waterfall, Granni, located right next to it. Granni means neighbor in Icelandic, which is quite the appropriate name for this waterfall located next door to Háifoss.
The diverse landscape around Háifoss and Granni make them perfect for those looking to capture some great landscape photography shots in Iceland. With the two waterfalls cascading down a deep gorge into the Fossárdalur valley the view of the area will have you in awe of the views in all directions.
Location | Háifoss is located in the Þjórsárdalur valley in the south of Iceland, 135 km from Reykjavik. The turn off for Háifoss is indicated with a small, but easily visible sign off the side of the road. Once you turn off you will follow a gravel road for 500m before turning right onto another gravel road. This second road is very rough, a jeep or other 4 wheel drive vehicle is recommend. Follow the second road for 6.5km staying to the left. You will see a gravel parking area to the left, park here and walk 800 m to reach the waterfalls. Another option is to hike back to Háifoss starting from the historical farm Stöng. The hike is 5-6 hours in both directions.
Hjálparfoss
Hjálparfoss is a beautiful double waterfall located in the lava fields past Mt. Helka. This picturesque stop is perfect for those looking for a quiet area to enjoy the nature in the middle of a day of exploring. The two waterfalls southern Iceland falling into the pond with unique rock formations surrounding them make for ideal photography so be sure to bring your camera.
Location | Hjálparfoss is located along the Fossá River 30 km east of the town Flúðir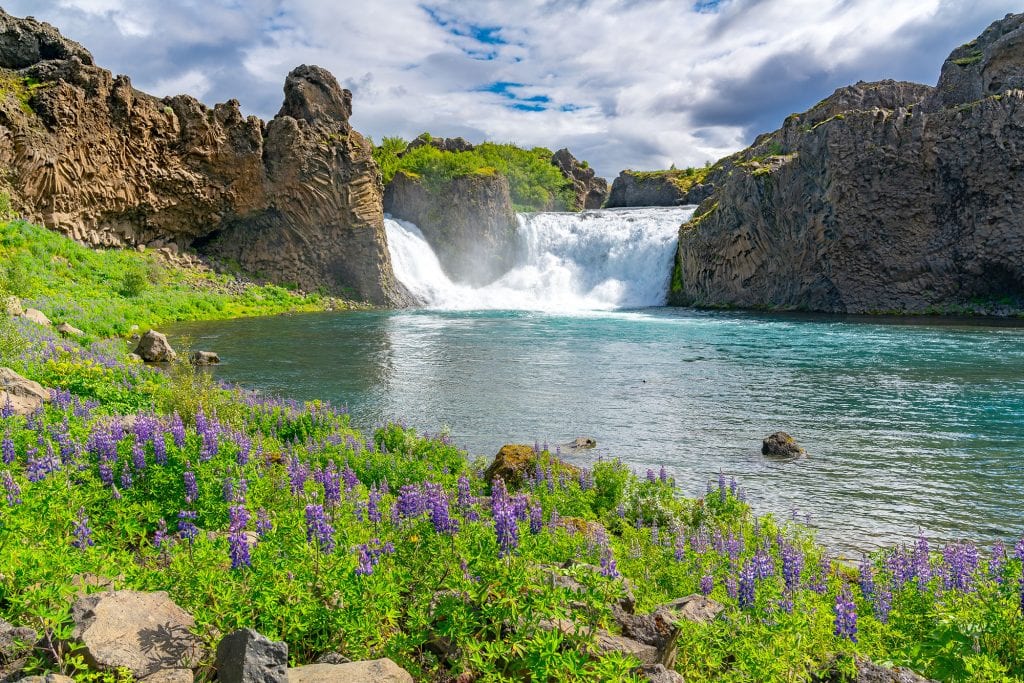 Seljalandsfoss
Driving along the south coast it is impossible to miss the beautiful Seljalandsfoss waterfall located on the side of the road. With its 60 meter drop over the cliffs this tall waterfall is a must visit while in the waterfalls southern iceland. What makes this waterfall truly special is that visitors can walk behind the waterfall, just be prepared to get a bit damp!
Location | Seljalandsfoss is located between Selfoss and Skógafoss, 127 km from Reykjavik.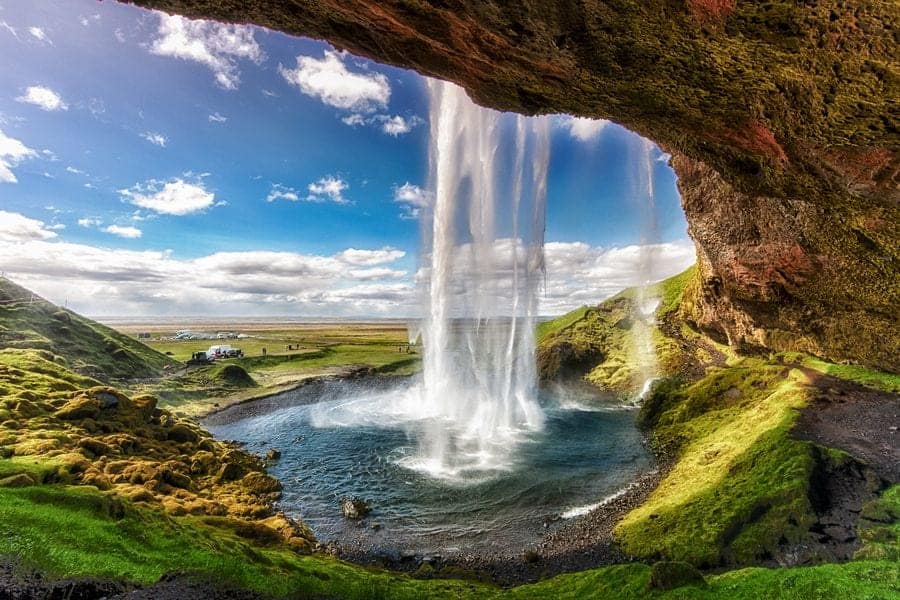 Gljúfrabúi
Located just a few minutes away from the popular waterfall Seljalandsfoss is the mostly hidden waterfall Gljúfrabúi. The 40 meter high waterfall is partially hidden behind a large cliff making it a real Icelandic hidden gem. To reach Gljúfrabúi you can either follow a steep path up the cliff to view the waterfall from above, or walk back into the canyon for a more close up experience. Walking back to Gljúfrabúi in the narrow canyon will require you to take a short walk through a shallow river so be sure to have on sturdy shoes. The walk back is worth it though. Standing inside the canyon with nothing but the mist from Gljúfrabúi around you will be a highlight of your time in Iceland waterfalls south!
Location | Gljúfrabúi is located next to the Hamragarðar campsite near Seljalandsfoss, 127 km from Reykjavik.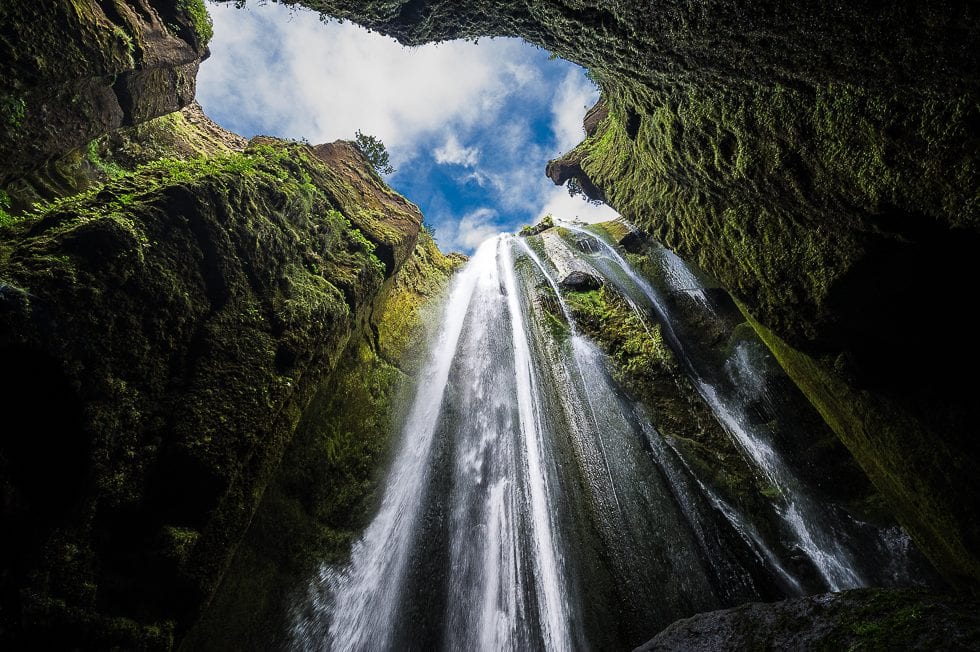 Skógafoss Best Waterfalls Iceland
With a width of 25 metres and a drop of 60 meters Skógafoss is one of the biggest and most beautiful waterfalls in Iceland and a popular stop in the South of Iceland. Visitors can walk right up to Skógafoss to fully take in its power and beauty. And when the sun is out and shining keep your eyes open for a rainbow that can often be seen in front of the waterfall. What is more magical than a beautiful waterfall with a rainbow in front of it?
Be sure to climb the stairs next to Skógafoss for a gorgeous view of the waterfall from above. This also marks the start of the famous hiking trail Fimmvörðuháls. To avoid the large crowds that gather at this pretty stop we recommend arriving in the morning between 8-9 or later in the day when most of the tour busses have already passed.
Location | Skógafoss is 30 km away from Seljalandsfoss heading towards the town of Vík.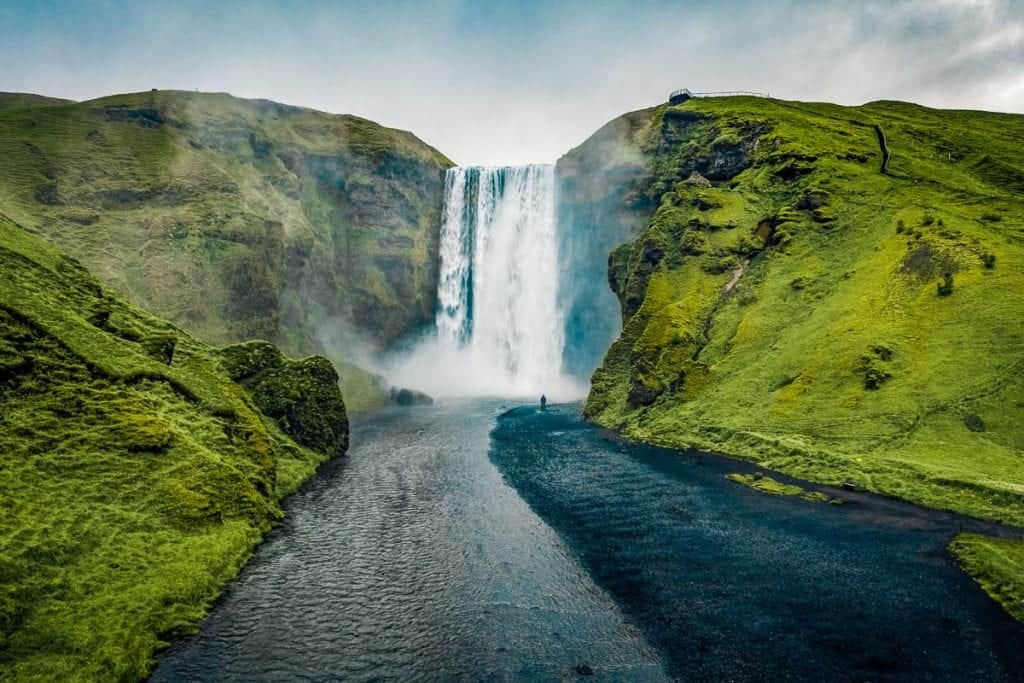 Kvernufoss
If you prefer to visit places that are a bit less known Kvernufoss is for you. Located just around the corner from the popular Skógafoss, Kvernufoss is a beautiful waterfall with a path that takes you all the way behind the waterfall so you can view it from a different perspective. With few others around Kvernufoss is the perfect waterfall to practice your photography skills on!
Location | Kvernufoss is located near the popular Skógafoss. Drive up to Skógar museum to park and hike back to Kvernufoss from there. Start walking towards the river on the right side of the museum. You will cross a fence and walk through a small field to reach the river. Once you have found the river follow it back into the valley for about 20 minutes. It is a straight walk back to the waterfall.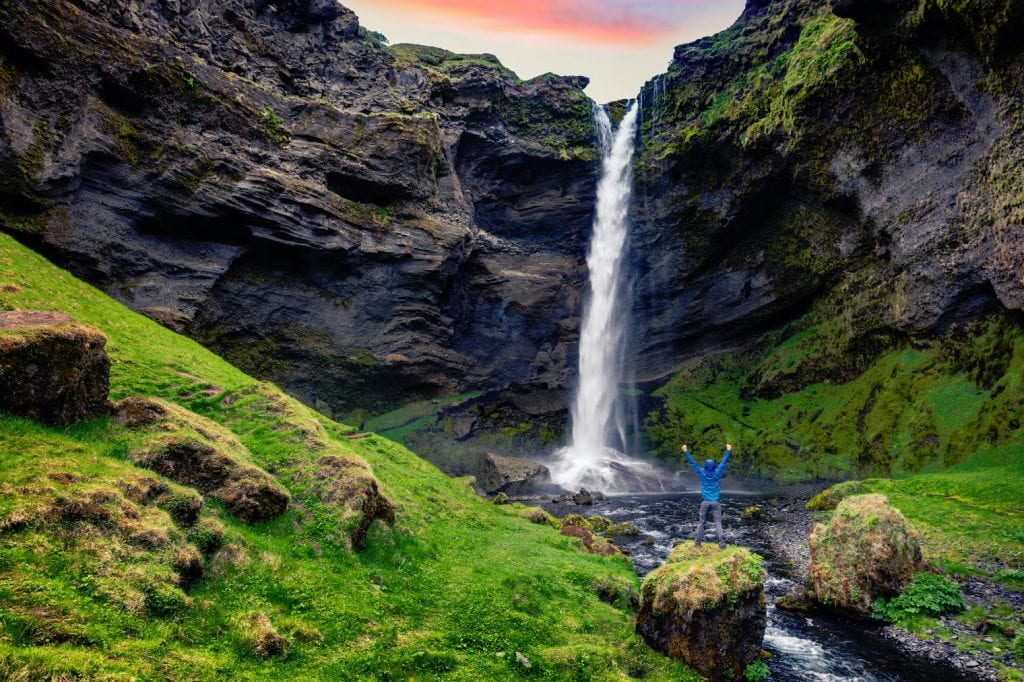 Svartifoss
Svartifoss, meaning "Black Waterfall", is located in Skaftafell within the Vatnajökull National Park. With black column basalt formations surrounding Svartifoss it makes for a unique and beautiful view and comes as no surprise that this is the most photographed waterfall in Iceland. The hike back to Svartifoss is just as beautiful as the waterfall taking you past two other smaller waterfalls along the way. The black lava columns that surround Svartifoss were inspiration for the architects who designed Hallgrímskirkja church in downtown Reykjavik.
Location | Svartifoss is located in Skaftafell in Vatnajökull National Park 70 km past the charming town of Kirkjubæjarklaustur.