1. Reykjanes Peninsula
The iconic landscape of the Reykjanes Peninsula is the first thing place of the 15 best places to visit Iceland, visitors will see when they leave the airport. The miles of moss covered lava rock have been said by many to make you feel as if you have landed on the moon. While the lava covered landscape might not look like much at first glance there are many gems in this area to explore that you won't want to miss.
Enjoy a hike up Helgafell where you will be rewarded with some stunning views over the peninsula at the top. Make a stop at the Bridge Between Two Continents and be able to say you have visited two continents at the same time. And, don't forget to spend a few hours at the famous Blue Lagoon spa, also located in the lava fields of the Reykjanes Peninsula.
Location | The Reykjanes Peninsula is located 50 km west of Reykjavik. Keflavik International Airport is located in the Reykjanes Peninsula.
Here you can book an ATV tour
Here you can book a helicopter tour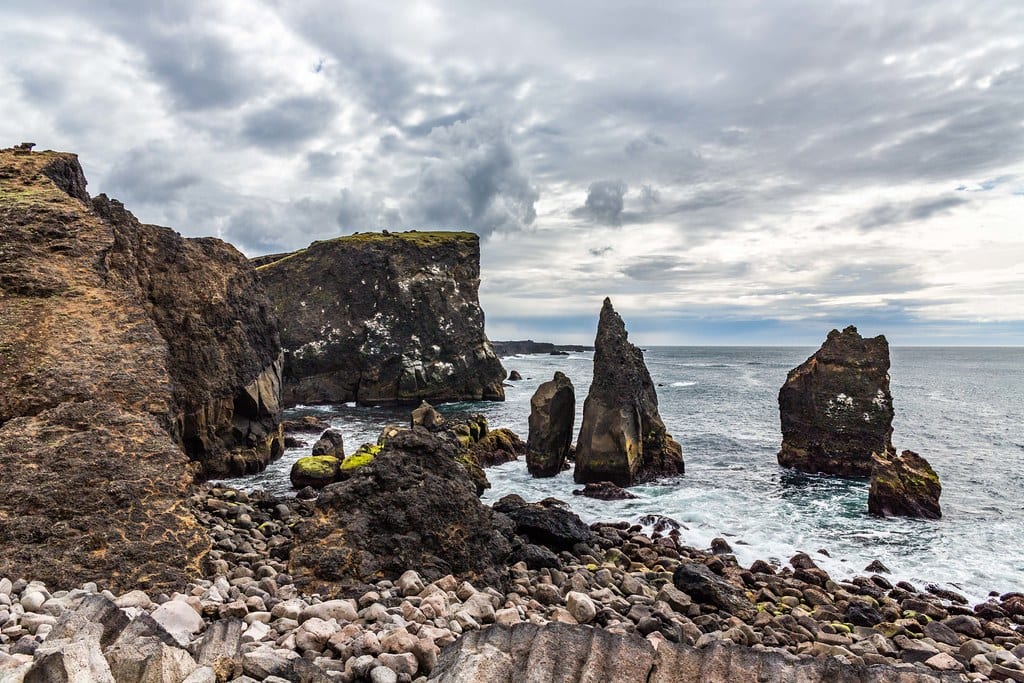 2. Krýsuvík
Located in the Reykjanes Peninsula is the geothermal area of Krýsuvík. Iceland is known for its geothermal energy so a visit to a geothermal area is a must while in the country. As you make your way back to Krýsuvík make a stop at Kleifarvatn, the largest lake on the Reykjanes peninsula. Along the way be sure to take in the unique rock formations you pass by, and see if you can spot the steam floating in the area as you near Krýsuvík.
Krýsuvík is a not so visited geothermal area in Iceland making it the perfect location for an "off the beaten path" adventure in Iceland!
Location | Krýsuvík is located in the south of the Reykjanes Peninsula 37 km from Reykjavik and just outside of the town of Hafnarfjorður.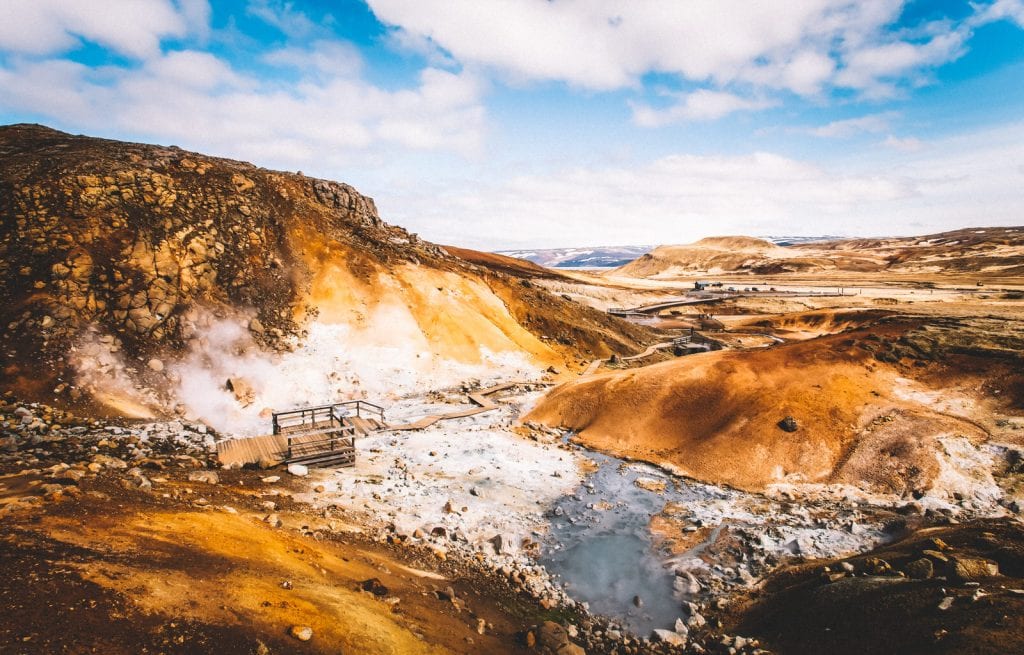 3. Grótta Lighthouse
Located in the westernmost edge of Reykjavik in the area of Seltjarnarnes you will find the charming Grotta lighthouse with a surrounding nature reserve. Tide permitting visitors can walk out to the islet the lighthouse is located on for a closer look and some beautiful views over Reykjavik. Continue your exploring with a walk along the pathway that will take you through the beautiful nature reserve full of wildlife. Grotta is the perfect area to take in a sunset or sunrise, or even the Northern Lights while in Reykjavik.
Make your visit extra memorable and take advantage of the little hot pool located just off the pathway. It is the perfect location to soak your feet while taking in the views of Mt. Esja and Reykjavik.
Location | Grotta Lighthouse is located 5km from downtown Reykjavik. To reach this area you can either walk the pathway along the shoreline or take bus #11.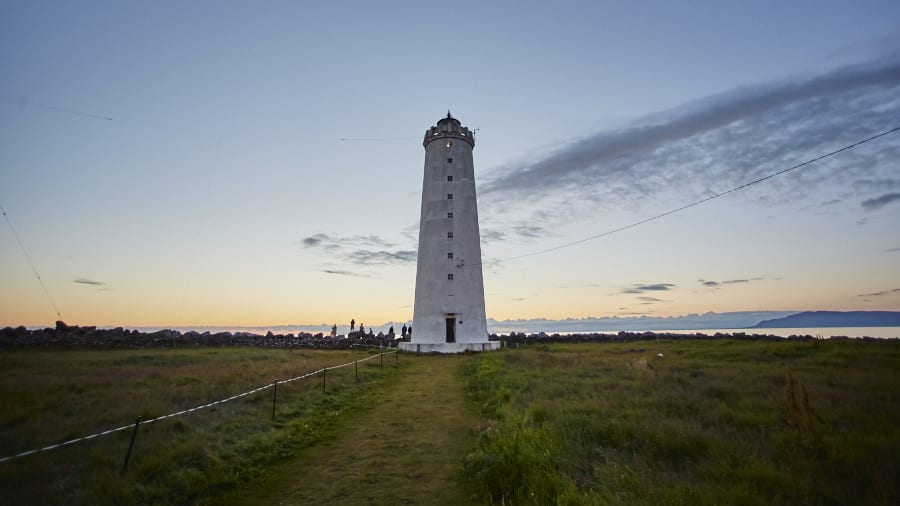 4. Þorlákshöfn ( Thorlakshofn)
Þorlákshöfn is just a 40 minute drive from Reykjavik making it the perfect adventure for those with just a few hours to spare. In this small town you will find a beautiful black sand beach, unique lava rock formations and the cozy cafe of Hendur í Höfn known for its delicious treats. There is something extra special about enjoying the unique Icelandic nature with few others around, and that is exactly the peacefulness you will find in Þorlákshöfn.
Location | Þorlákshöfn is located in the south of Iceland 45 km from Reykjavik.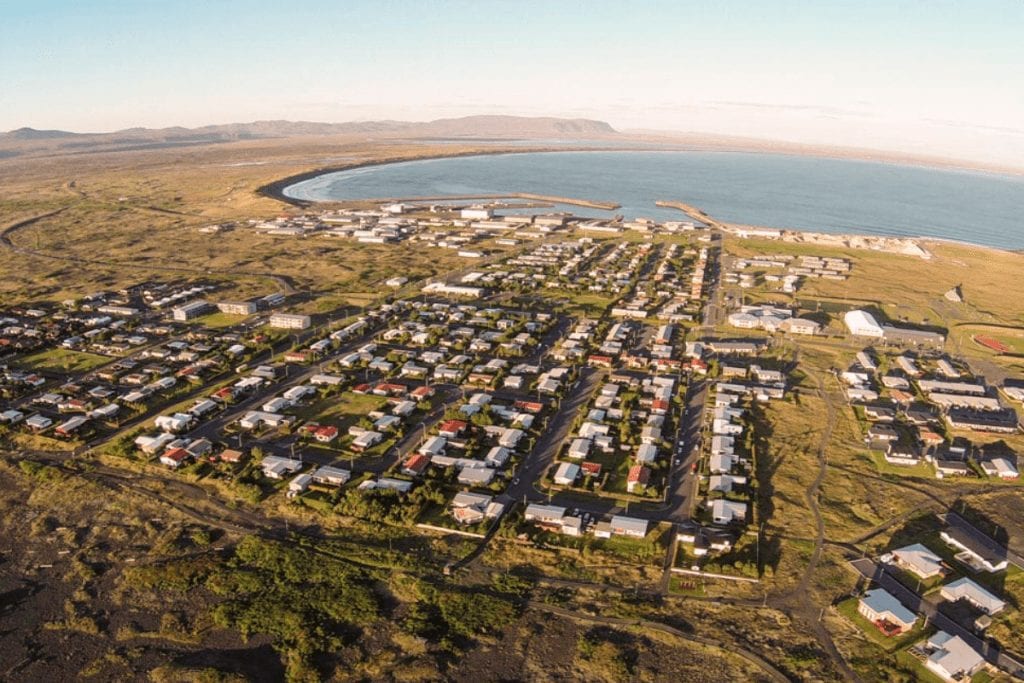 5. Laugarvatn
Located along the popular Golden Circle route, Laugarvatn is a lake and small town known for its surrounding nature and hot springs. This is a popular area for people to escape the city life for their summer cabins. You will see dozens of small cabins along the lakeshore, and in the surrounding areas. With several nearby hiking trails, close proximity to the popular destinations of the Golden Circle, and the nearby hot springs this region has a little bit of everything.
While in this region be sure to stop at Laugarvatn Fontana for a unique Icelandic geothermal pool experience. Laugarvatn Fontana is located right along the Laugarvatn lake so you can take in some gorgeous lake views while you are relaxing in the geothermal pools.
Location | Laugarvatn is located along the Golden Circle route, 100 km from Reykjavik.
Book a Golden Circle Tour and Fontana Wellness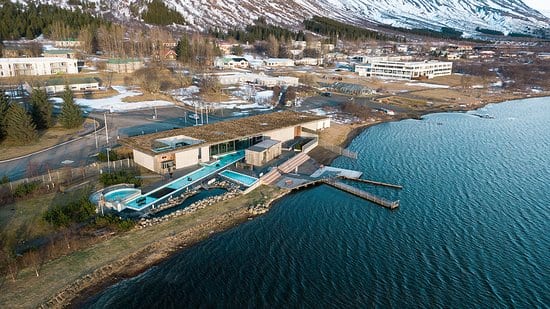 6. Brúarfoss
For those who have come to Iceland to see as many waterfalls as possible you will want to be sure to have Brúarfoss on your list. Arguably one of the most unique waterfalls in Iceland, Brúarfoss is located in the Bruara river in the southwest of Iceland. The vibrant blue color of the water and the dozens of small waterfalls trickling down are what make this waterfall so unique. If you are looking to capture some stunning photography while in Iceland you will want to add Brúarfoss to your list, you will be in awe of the blue waterfall as soon as you see it.
To reach Brúarfoss is a bit tricky so be sure to write down the directions below to help you find your way. And, as always, please be respectful to the nature in this area so that others can enjoy as well.
Location | Brúarfoss is located along the road 355, 90 km from Reykjavik. About 2-3 kilometres after you crossed road 355 you will reach a large summer house area on the left side. Take the third road into this area (all other roads are blocked with gates) and drive straight ahead. Follow the gravel road until you reach a bigger path with two tracks. Turn left and drive for a few minutes until you reach the end of the road. There you will see a small area where you can park your car and follow the little foot path right over the small bridge. Once you cross the bridge head to the left and stay on the trail. Walk for 5-10 minutes on this path and you will arrive to Brúarfoss.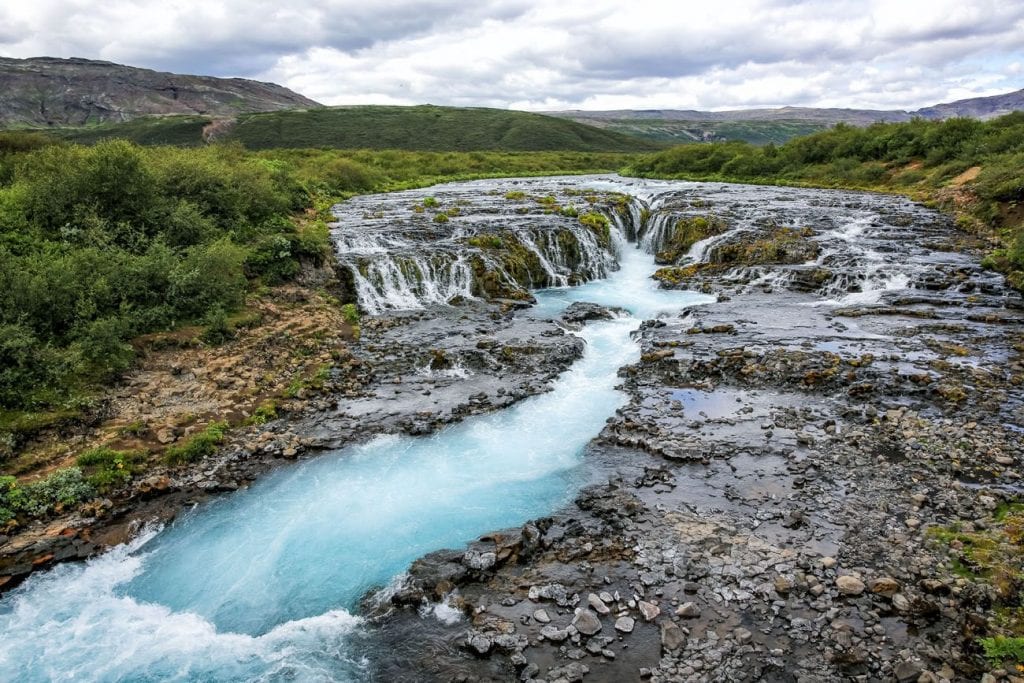 7. Gjáin
If there was ever a place to make you believe in the Icelandic elves Gjáin is it. This magical area is located in Þjórsárdalur valley in the south of Iceland and is one hidden gem you don't want to miss. The nature in this area is lush and bright green, there are more waterfalls trickling down then you can count, and the unique rock formations will have you in awe of what nature can create. An added bonus of Gjáin, few people know of this hidden gem which means you will get to enjoy the area mostly to yourself! Finding a place that is not crowded with visitors in Iceland is becoming a rare thing, so Gjáin is truly a hidden gem.
The road back to Gjáin is very rocky, it is highly recommended that you have a 4WD to reach this area.
Location | Gjáin is located in the Þjórsárdalur valley in the south of Iceland and is around 136km away from Reykjavik.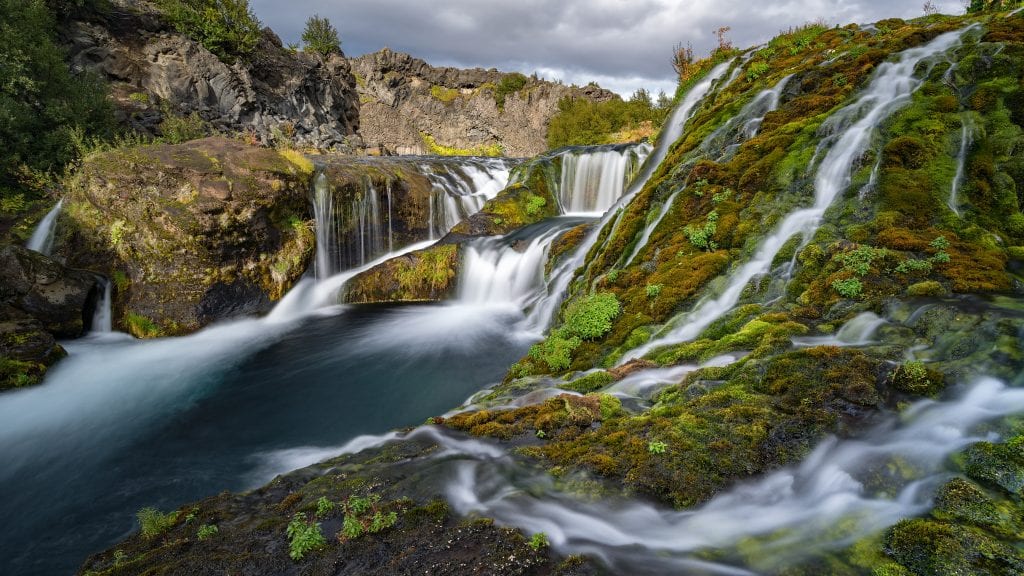 8. Elephant Rock – Westman Islands
The breathtaking Elephant Rock is located on the island of Heimaey, the only inhabited island in the Westman Islands. Heimaey is a volcanic island full of unique rock formations, but the highlight of these formations is by far the impressive Elephant Rock. As soon as you lay eyes on this massive formation there will be no doubt in your mind that it resembles an elephant, even down to the texture that looks like wrinkled elephant skin thanks to the basalt rocks that formed it. You won't want to miss this impressive creation while visiting the Westman Islands!
To reach Elephant Rock you will need to take a boat tour around the island. There are several boat tour operators in Westman Islands so be sure to book your tour before you go.
Location | Westman Islands is located off the south coast of Iceland. A ferry to the island can be taken from the harbor Landeyjahöfn located 130 km from Reykjavík. Once on Heimaey island take a boat tour to see Elephant Rock.
Book all your Westman Islands / Vestmannaeyjar tours here
9. Fjaðrárgljúfur Canyon
Don't let the tricky Icelandic name scare you off, Fjaðrárgljúfur is one impressive location in Iceland you definitely should have on your list. Fjaðrárgljúfur is a canyon located in the south east of Iceland that is 2 km long and 100 m deep with the Fjaðrá river flowing through it. Visitors to Fjaðrárgljúfur can choose to take in the canyon view from above while walking along the pathway, or by going down into the canyon for a closer look. Make sure to have your camera ready when you visit Fjaðrárgljúfur, this is an iconic Icelandic location you will want to be sure to remember.
Location | Fjaðrárgljúfur is located in the south east of Iceland along the ring road, 6 km from the town of Kirkjubæjarklaustur.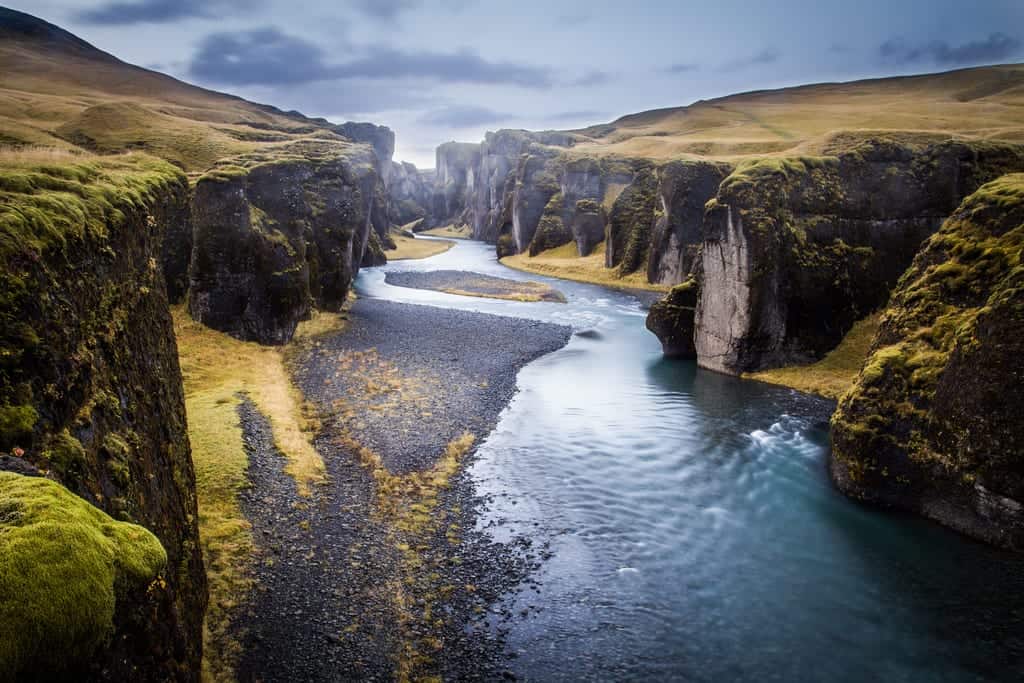 10. Grjótagjá
Located in the rugged North of Iceland is the hidden gem Grjótagjá. When you first arrive to Grjótagjá all you will see is the outside of the small lava cave, but don't let this fool you. Take a quick look inside the cave and you will see the gorgeous blue water that makes Grjótagjá so special. This hot spring was a popular bathing spot until the 1970s, however after several volcanic eruptions  the water has become too warm to bathe in. While you can't spend an afternoon soaking in this beautiful cave it is still worth the visit.
And for all you Game of Throne fans out there, Grjótagjá is the cave where Jon Snow and Ygritte share their first kiss!
Location | Grjótagjá is located in the North of Iceland, 11 km from Lake Myvatn.
11. Kolugljúfur
The list of waterfalls to visit in Iceland just keeps on growing, and one waterfall you want to be sure to add to your list is Kolugjúfur. Located just outside of the town Hvammstangi in the North of Iceland, Kolugjúfur is an impressive waterfall cascading down into a deep rugged gorge. Visitors can get right up and close with this beautiful waterfall, just be sure to use caution. The combination of the deep gorge with the large waterfall rushing down is an impressive sight to be seen!
Location | Kolugjúfur is located in the North of Iceland, 24 km from the town of Hvammstangi.
12. Rauðasandur
Heading to the beach is probably not the first thing that comes to mind when planning your Iceland adventure, but Rauðasandur is one beach you will not want to miss. Said to be one of Iceland's most impressive beaches, Rauðasandur translates to "red sand" which is the perfect name for this beach known for its pink and red sand that stretches for 10 km. Located in the Westfjords of Iceland it may not be the easiest location to reach, but it is more than worth the drive to take in the picturesque views of Rauðasandur.
Location | Rauðasandur is located in the Westfjords on the northern shore of Breiðafjörður Bay.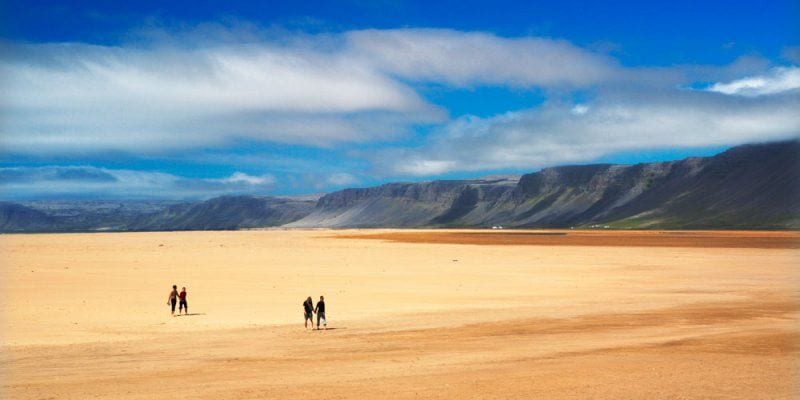 13. Reykjarfjörður
If you are looking for the place for the ultimate Icelandic road trip a drive around Reykjarfjoður is it. Found in the remote Westfjords, Reykjarfjoður is a beautiful fjord that offers stunning views around every corner. From rolling mountain views to waterfalls alongside the road, hot springs just waiting to be enjoyed and endless ocean views, Reykjarfjoður is the perfect place to get a feel for all the best Icelandic nature has to offer.
Location | Reykjarfjoður is located along route 63 in the Westfjords, 45 km away from the town of Tálknafjörður.
14.Stykkishólmur
Located in the north of the diverse Snæfellsnes peninsula is the charming fishing town of Stykkishólmur. This colorful little town is the perfect location to stop for a meal, enjoy a swim in the local pool, or spend the night, while out exploring the Snæfellsnes peninsula. While visiting the town be sure to take a stroll around the harbor area where you will see a range of boats in all shapes and colors.
Location | Stykkishólmur is located in the north of the Snæfellsnes peninsula.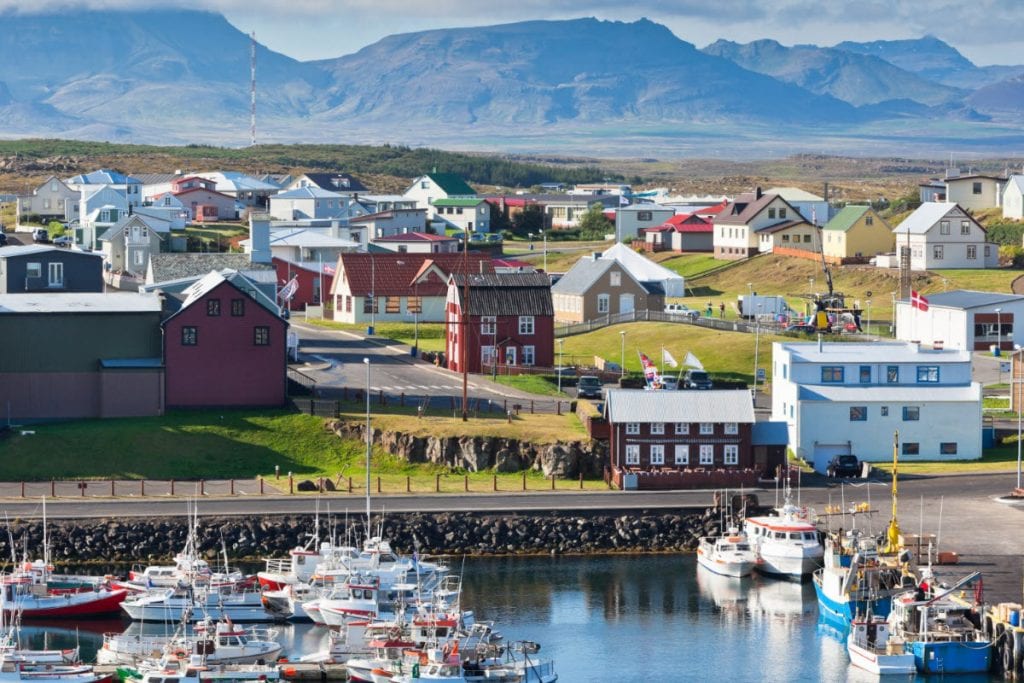 15. Glymur
The second tallest waterfall in Iceland, Glymur is the perfect place to visit for those looking for an Icelandic adventure! To reach the beautiful waterfall of Glymur you must hike back into the valley, a hike that will take you anywhere from 2-4 hours round trip. The hiking trail back to Glymur is full of gorgeous nature, including some impressive valley views you will get as you make the climb up towards the waterfall.
This hike is not very difficult making it good for all fitness levels in your group. And the waterfall waiting for you at the end, that will be motivation for you to keep on going.
Location | Glymur is located in Hvalfjörður, 64 km from Reykjavik.
Check out our other blogs about Iceland:
Iceland most popular hotspots
South of Iceland Waterfalls