What would you like to do after your Golden Circle Self Drive Tour ? We would suggest that you keep on exploring the south of Iceland, where you will drive pass Waterfalls, Volcanoes and rugged nature.
Here is a list of the best golden circle tour iceland suggested stops in your tour around the south of Iceland and the list starts where this self drive tour ends
1. Urriðafoss Waterfall
Urriðafoss is a waterfall in Þjórsá River which is Iceland´s longest river or around 230km. Urriðafoss is furthermore the most voluminous waterfall in Iceland. This is a very nice stop that not so many know of. If you want to have a moment with the nature this might be a good spot for you.
Location | Urriðafoss is only a 28minute drive from Kerið or around 34 km.
2. Westman Islands / Vestmannaeyjar
This small and unique volcanic islands that populates around 4200 inhabitants, is considered to be the best kept secret in Iceland! Have you heard about the elephant in the sea or Surtsey ? They are both on Westman Islands.
If you want to visit you can either fly from Bakki (also Reykjavík if you are there) or take the ferry from Landeyjahöfn.
Westman Islands offers variety of guided bus and boat tours along with having some of the best restaurants in the south of Iceland. Accommodation on the island is considerably lower then in the surrounding areas so it is a good place to spend the night.
Location | The drive from Urriðafoss to Landeyjahöfn (where the ferry leaves) is around 45 minutes or 62 km. The ferry ride is around 35 minutes one way and the flight from Bakki is around 10 minutes.
Bookable tours:
Book ferry tickets to Westman Islands
Book flight from Bakki to Westman Islands
Book a fly over Westman Islands and Surtsey
Book a boat tour in Westman Islands
Book a guided bus tour in Westman Islands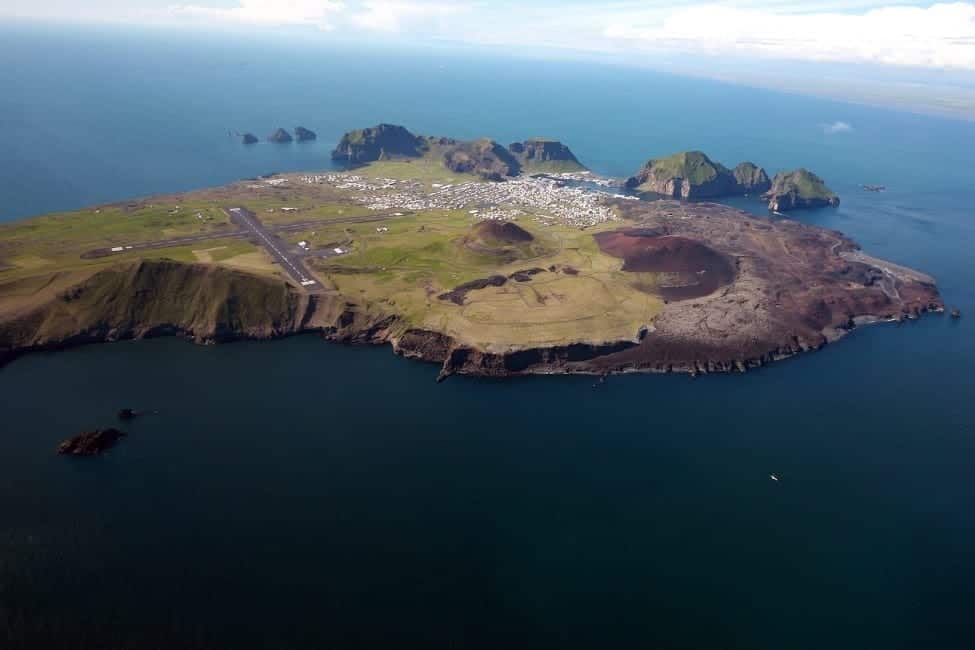 3. Seljalandsfoss – Waterfall
Right after you come from Westman Islands you will see a magnificient waterfall called Seljalandsfoss. This tall waterfall that has over a 60m drop over the cliffs has a special feature… you can actually walk behind the waterfall…. Just be prepared to get a little bit damp if you want to walk behind it.
Location | Seljalandsfoss is around 15km from Landeyjahöfn or a 12 minute drive.
Bookable tours:
Paragliding in the south coast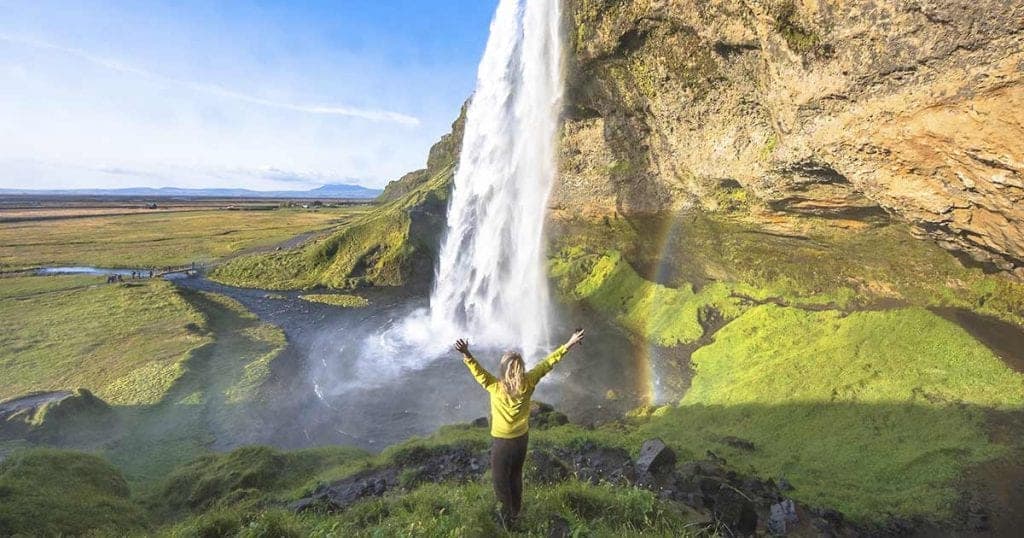 4. Skógafoss – Waterfall
Skógafoss is one of the biggest and most beautiful waterfall in Iceland, with a width of 25 meters and a drop of 60 meters is a very popular visit on the South of Iceland. You can walk right up to the waterfall and if you like you can also have a zip from this icecold glacier water. If you want to see more during golden circle self driveof Skógafoss you can walk up the stairs and see the waterfall from above plus you can keep on walking and follow the stream of water. There are some really nice spots to find here.
If you want to check out other waterfalls in the south, check out this list of Waterfalls.
Location | Skógafoss is around 30 km from Seljalandafoss and the drive is around 25 minutes.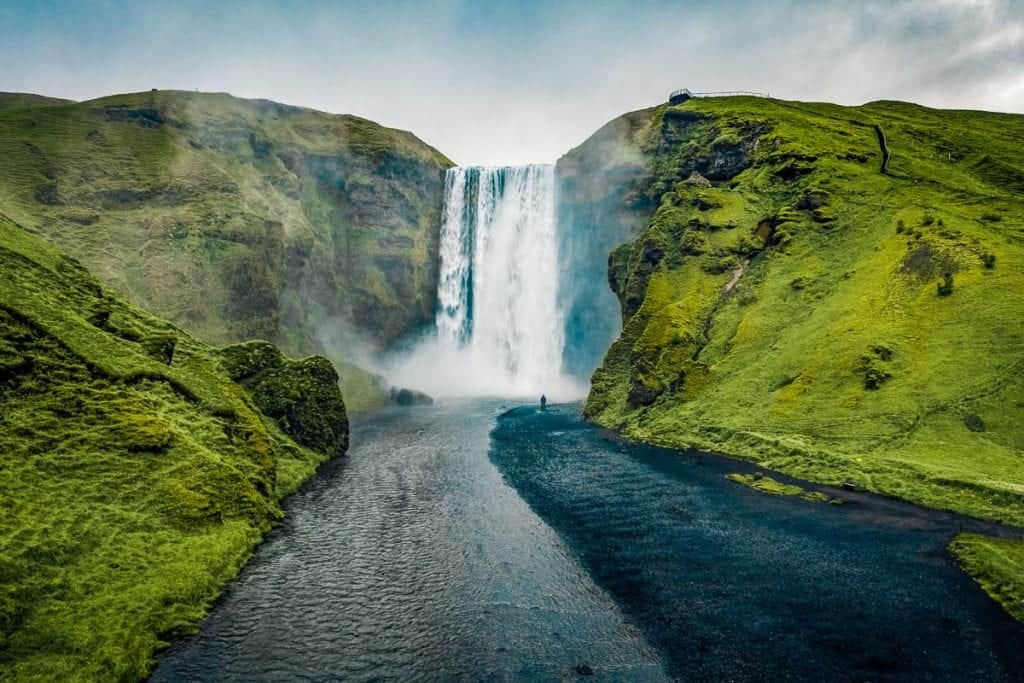 5. Dyrhólaey
Dyrhólaey which literally means "door-hole" is a great stop. You can see some amazing rock formation on Dyrhólaey along with the famous lighthouse that stands on top of the cliff. From there you can see alot of birdlife such as puffins and you will have a great view to all directions from there (to the north you can see Mýrdalsjökull Glacier and to the east you can see Reynisdrangar)
Location | Dyrhólaey is a 30 minute drive from Skógafoss or around 28 km.
6. Black Sand Beach (Reynisfjara)
This is regarded the most impressive black sand beach in Iceland. It is a black pebble sand beach that features amazing cliff of regular basalt columns that resemble a rocky step pyramid. In Reynisfjara there is a rich birdlife including puffins, fulmars and more.
Please note that the waves at Reynisfjara are extremely strong and unpredictable and fatal accidents have occured on this beach. Take extra care and follow and read all the warning signs to the letter.
Here is a cool video from Reynisfjara
Location | Black Sand Beach is 20 kilometers from Dyrhólaey and about 25 minutes drive.
Bookable tours:
Horse riding tour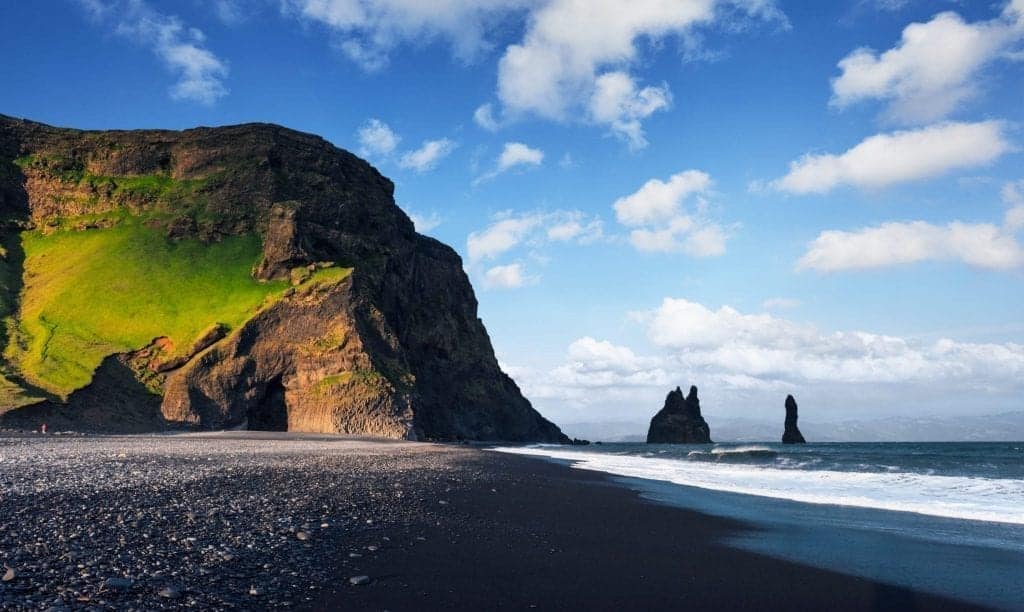 7. Vík
This small town has a spectacular natural beauty. Hiking trails, bird watching, paragliding in the blue sky, snowmobile tour on Mýrdalsjökull ATV tours, horse riding and glacier walks are among many things you can do in Vík.
They also have great camping places and lots of other accommodation options.
Location | Vík is only 11km away from Black Beach or around 12minute drive.
Bookable tours near or around Vík:
Ingólfshöfði Puffin Tour (popular)
Location | Black Sand Beach is 20 kilometers from Dyrhólaey and about 25 minutes drive.
Bookable tours:
Horse riding tour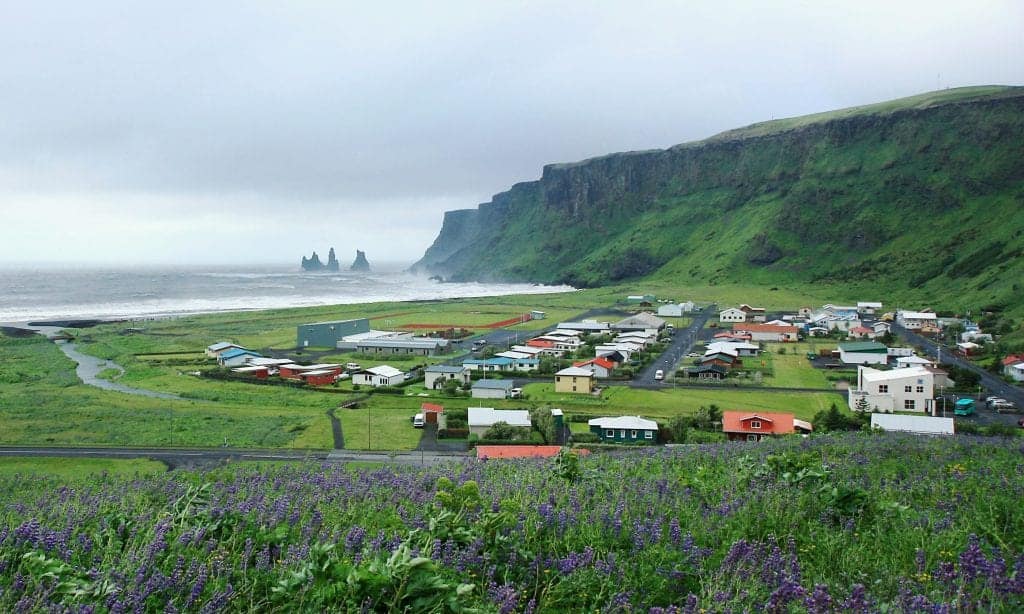 8. Fjaðrárgljúfur
Fjaðrárgljúfur is considerd to be one of the most beautiful canyons in the world.This magnificent and massive canyon is about 100 meters deep and 2000 meter long. The bedrock in Fjaðrárgljúfur is mostly palagonite from the cold periods of the Ice Age and is thought to be around two million years old.
The water level today is often low so hikers can safely choose to walk inside the canyon. However, wading is often necessary. In golden circle self drive most people walk along the walking path and enjoy the amazing view.
Location | Fjaðrárgljúfur is a 50 minute drive from Vík or around 70 km.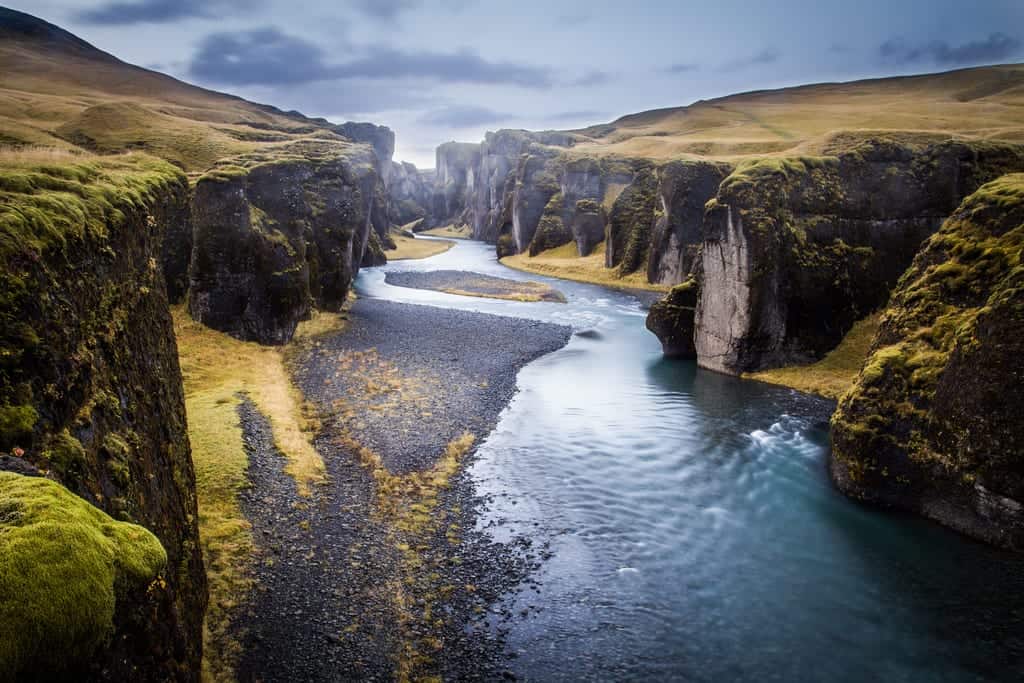 9. Jökulsárlón – Glacier Lagoon
The last destination of this blog is the world famous Glacier Lagoon it is probably the most visited destination in Iceland including the Golden Circle. We are not going to write more information about it you just HAVE to go there ?
Location | Glacier Lagoon is 130km away from Fjaðrárgljúfur and a 100 minute drive.
Bookable tours:
Boat tour around Jökulsárlón
Zodiac boat tour around Jökulsárlón